With a population of well over 2 million people, it should come as no surprise that the city of Chicago is frequently filled with heavy traffic. According to a traffic study conducted by the mobility research firm INRIX in 2019, Chicago has the second-worst traffic congestion in the entire U.S. And if you're a Chicago resident looking to get around town quickly, avoiding busy roads can be paramount.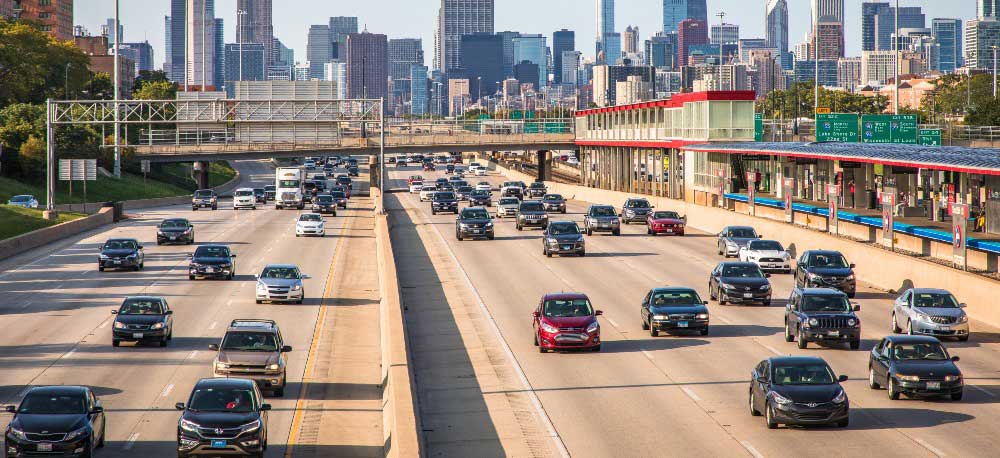 When is rush hour in Chicago?
According to data captured by TomTom, a leading independent location, navigation, and map technology company, Chicago rush hour historically occurs between 7 a.m. to 9 a.m. in the morning, and 3 p.m. to 7 p.m in the evening. Additionally, the worst traffic times in Chicago occur on Fridays between 4 p.m. and 5 p.m. historically.
Busiest roads & commutes in the Windy City
Illinois Vehicle Auto Insurance, a local car insurance company that serves the greater Chicago area, recently released a study based on data from the US Department of Transportation and City of Chicago Average Daily Traffic Counts depicting some of the busiest roadways in Chicago. Based on their findings, they were able to identify the busiest stretches of Chicagoland Interstates and Streets in Chicago.
---
Schedule AppointmentGet the Repair Process Started
---
Busiest Chicagoland Interstates:
I-90/I-94 - From Dan Ryan Expressway/Chicago Skyway junction, Exit 59C North to Pershing Road Exit 55A (South of City)
I-90/I-94 - From Claybourn to West Division Street (North of City)
I-290 - From South Pulaski Road to South Sacramento Boulevard
I-294 - From O'Hare Way to Irving Park Road
I-80 - From IL83 to US41
Busiest Streets in Chicagoland:
North Lakeshore Drive/US 41 - between West Fullerton to North Cameron Drive
North McCormick Boulevard - between West Touhy Avenue to West Devon Avenue
US 53 - between Palatine Road to IL62
East Congress Parkway - between Chicago River to South Michigan Avenue
IL390 -between IL19/West Irving Park Road to North Meacham Road
According to the INRIX, two stretches of these busy interstates - the I-290, starting from the I-294 to I-90, and the I-90/I94 starting from I-290 to I-294, were among the top 10 Most Congested Roads in the U.S. in 2019. These roads were reported to have caused an average of 14 and 13 minutes in traffic time delays respectively.
Most dangerous roads in Chicago
In an additional report taken in 2020, the INRIX used available collision, lane closure, vehicle speed, and traffic volume data to determine the most dangerous streets and interstates in Chicago. The roads were assigned risk ratings based on the number of collisions reported the previous year and the amount of traffic that the roads see on a daily average.
Most Dangerous Roadways in Chicago:
I-294 with a rating of 2.28
I-94 with a rating of 2.24
I-55 with a rating of 2.17
I-355 with a rating of 2.1
I-57 with a rating of 2.06
I-80 with a rating of 1.98
I-90 with a rating of 1.87
Based on these findings, drivers might assume that collisions and delays are more likely to occur on interstates than on streets.
Chicago traffic map
One way Windy City drivers can prepare for busy commutes is by being aware of heavy traffic or road closures. Drivers can keep an eye on roads in Chicago by monitoring traffic conditions on the Chicago Department of Transportation's Traffic Tracker. This tool informs drivers of real-time driving conditions, including:
Real-time speeds
Congestion estimations
Red light and speeding cameras
Pedestrian counts
In addition to traffic flow, knowing where road closures are before hitting the road may help Chicago drivers save time on their commutes. Drivers can find information on local street closures on the City of Chicago website.
Chicago traffic tracker apps
Drivers already on the road may not be aware that they are headed straight into a traffic jam. Luckily, there are a number of useful driving apps that cover the Chicago area to help driver monitor traffic, find parking, and shop for gas, including:
Waze
Park Chicago
ParkWhiz
SpotHero
INRIX Traffic
The WGN Traffic app
Google Maps
MapQuest
Traffic Spotter
Roadtrippers
Remember, using your phone while driving can be dangerous. Drivers that practice safe driving with limited distractions may have a lower possibility of being involved in a collision.
What to do after a collision in Chicago
Even when drivers are completely prepared for heavy traffic, the unexpected can happen. If you find yourself on West Division Street during bumper-to-bumper traffic and wind up in a fender bender, the collision experts at Gerber Collision & Glass are here to help.
With more than 80 years of auto collision and auto glass repair experience, our professional technicians deliver premium customer service and complete collision repair better than any other shop in Chicago.
Call us at 1-877-7GERBER or schedule an appointment today.