Arriving at a destination safely can be difficult if a driver is distracted while they're driving. In fact, more than 3,000 people lost their lives in 2019 as a result of distracted driving incidents.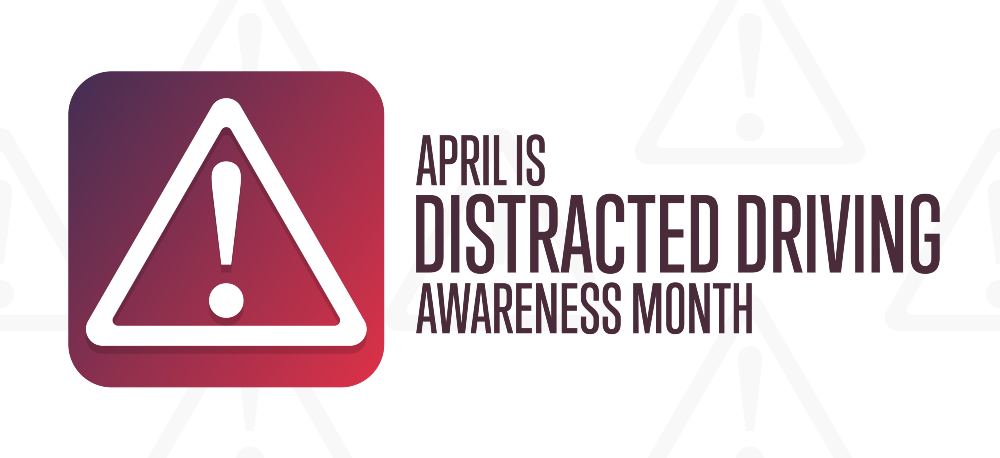 In order to advocate safe driving practices, the National Safety Council promotes the Distracted Driving Awareness Month every April. This campaign is intended to bring attention to the risks of distracted driving and encouraging safer driving practices. Learn how you can join the cause and take action today.
The National Safety Council Distracted Driving Awareness Month
The National Safety Council (NSC) is America's leading nonprofit safety advocate that focuses its efforts on eliminating the leading causes of preventable injuries. When Congress designated the month of April to driver safety in 2010, the National Distracted Driving Awareness Month campaign began to continue to educate drivers and passengers about the dangers of distracted driving.
Every April, the NSC participates in Distracted Driving Awareness Month by promoting educational resources and training for drivers and advocates of safe driving programs. Drivers and passengers are encouraged to participate by making the NSC Just Drive pledge to commit to distraction-free driving, and donations are accepted to help further their efforts.
Learn more about distracted driving with their robust collection of education material here.
Types of Distracted Driving
What is distracted driving? Distracted driving constitutes any activity that takes attention away from a driver's focus on the road. Brains cannot process more than one activity at a time, and focusing on any other task besides driving can lead to delayed reaction times and subsequently, a higher chance of being in a collision.
---
Schedule AppointmentGet the Repair Process Started
---
There are a number of types of distracted driving, including:
Visual Distraction: Any distraction that involves taking your eyes off the road.
Manual Distraction: Any distraction that involves taking your hands off the wheel.
Cognitive Distraction: Any distraction that involves taking your mind off of driving.
Drivers may experience one or more of these distractions during activities such as:
Talking or texting on your phone
Eating and drinking
Talking to passengers in the vehicle
Using entertainment or navigation systems
While not all activities may lead to critical repercussions, drivers are still encouraged to stay as focused on the road as possible.
How to Avoid Distracted Driving
One way drivers can resist distractions is to minimize any multitasking activity. Whether it's adjusting the mirrors, choosing music, eating a snack, talking on the phone, or reading a message, drivers should consider taking care of any non-driving activity before starting their trip. Other ways drivers can avoid distractions include using apps to avoid cell phone usage while driving or requesting assistance from passengers in the car.
Passengers can assist with a number of non-driving-related tasks, including navigation, handling entertainment systems, or monitoring other passengers in the vehicle. They may also offer encouragement to drivers who are distracted by requesting the driver to refocus on the road.
Distracted driving statistics indicate young adult and teen drivers, specifically between the ages of 16-19, are 3 times more likely to be distracted than drivers aged 20 and older. Parents of teens should consider continuously reminding young drivers that driving is a skill that requires their full attention and discourages the use of cell phones whenever the vehicle is in motion. It may be useful to be up-to-date with state cell phone laws in order to help enforce these ideas.
Don't Let Distracted Driving Affect You
Driving without distractions is more than just a good driving skill - it could be the key to reducing the number of collisions on the road. Join NSC during Distracted Driving Awareness Month in April to help make roadways and people safer.
In the event you do experience a collision as a result of being distracted, our expert mechanics at Gerber Collision & Glass can get you back on the road in no time. Get an online collision estimate, find a location near you, or schedule your collision appointment today.