Many long-time Chicago residents may be familiar with Winter Storm of 1967. This weather event has been considered the worst snowstorm on record and left the city streets and expressways filled with more than 6 feet of snow and thousands of abandoned vehicles in the roadways.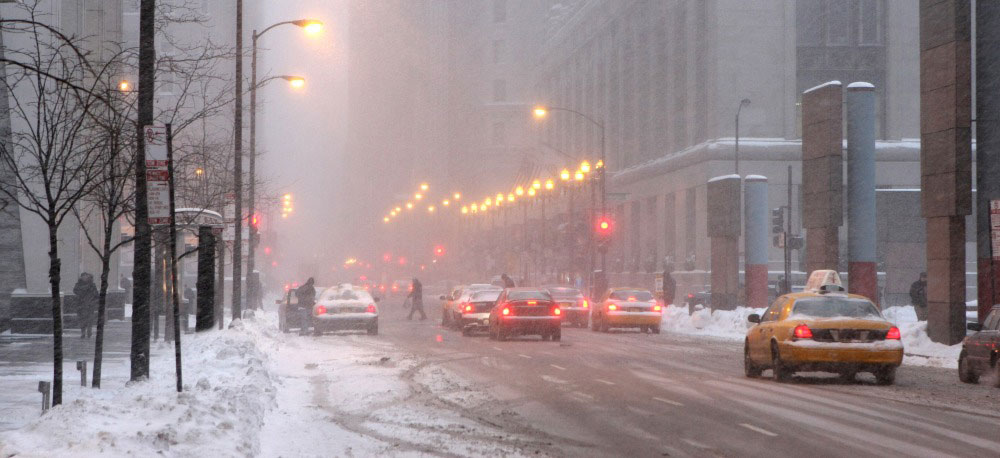 Located in northwestern Illinois against the banks of Lake Michigan, the greater Chicago area is no stranger to snowy weather during winter months. And when the weather turns, Chicago drivers are often forced to drive in less-than-ideal driving conditions.
From freezing temperatures to reduced visibility, there is a variety of driving hazards that may appear during snow and ice storms. To avoid being involved in snow or ice-driven collisions, consider the following driving tips to avoid being involved in a collision.
---
Collision Repair EstimateRepairing All Makes & Models
---
Tips for Avoiding Collisions in the Snow and Ice in Chicago
1. Understand how to drive on snow and ice
Despite the diligent efforts by the Chicago Department of Streets & Sanitation and the State of Illinois's Department of Transportation Snow Command to keep city streets, neighborhood roads, Lake Shore Drive, and the expressway system clear during storms, it's not uncommon for roadways to be covered in ice and snow.
Such weather conditions often make it difficult to control or stop your vehicle. By paying close attention to the conditions of the road and driving at a slower speed, you may be able to better control your car on slick or snowy streets.
2. Understand dash lights
According to the National Highway Traffic Safety Administration, drivers should be familiar with their vehicle's safety features before hitting winter roads. Such safety features are designed to indicate how your car is performing, and suggest certain systems to turn on in the event of an emergency, such as electronic stability control systems and anti-lock brakes.
3. Monitor road conditions
During snowstorms, snow and black ice often blanket city streets. These weather conditions can be very hazardous to drive in and may give drivers trouble during commutes or trips.
One way to avoid these hazards in Chicago is to monitor road conditions on the Illinois Department of Transportation website. Drivers may be able to use this information to plan alternate routes that are not covered in snow or ice, potentially avoiding any opportunities for collisions.
4. Prep vehicle
Another way drivers may be able to prevent collisions in winter is to thoroughly prep their car for winter weather. For example, drivers should consider checking the vehicle's brakes, battery, antifreeze level, lights, and windshield wipers before hitting the road in the cold.
Chicago drivers should also consider installing snow tires for snowy roads, and ensure that these tires have enough air pressure. Despite the high number of interstates and snow removal vehicles transferring the Windy City, be prepared for snow-covered roads that can help prevent your car from skidding over the side of Lake Shore Drive.
5. Clear the vehicle of snow and ice
Before hitting the road in snowy conditions, drivers should consider clearing the hood, roof, trucks, and windshield of snow and ice. According to Chapter 12 of the Illinois Vehicle Code, drivers must clear any snow, ice, moisture, or obstructing objects that distort their vision in the front and rear windows.
6. Understand how to recover from a skid
Icy and wet roads can often lead to loss of control and may cause vehicles to skid across roads and into serious collisions. If your car begins to skid, remove your foot from the gas and avoid stepping on the brake. Steer in the direction of the spin until the car has gained enough traction to straighten out.
Repair Your Car After Collisions in the Snow in Chicago
If you find yourself in an auto collision in Chicago this winter, don't leave your vehicle out in the cold. Gerber Collision & Glass has several locations in the greater Chicago area that can help get your car back on the road before the snow melts.
For more than 80 years, North Americans have entrusted their automotive repairs to the experienced professionals at Gerber Collision & Glass with collision and glass repair. Offering premium customer service and one of the fastest cycle times in the industry, our quality workmanship is backed by our National Lifetime Guarantee for as long as you own your vehicle.
Call Us Now at 1-877-7GERBER or Schedule an Appointment Online!