With each model created, car companies like to introduce new features to help promote safe driving. While blind-spot monitoring was first introduced to the consumer in 2007, blind-spot collisions still appear to be a significant issue. The National Law Review reports that more than 800,000 blind spot accidents occur each year, according to National Highway Safety Administration data.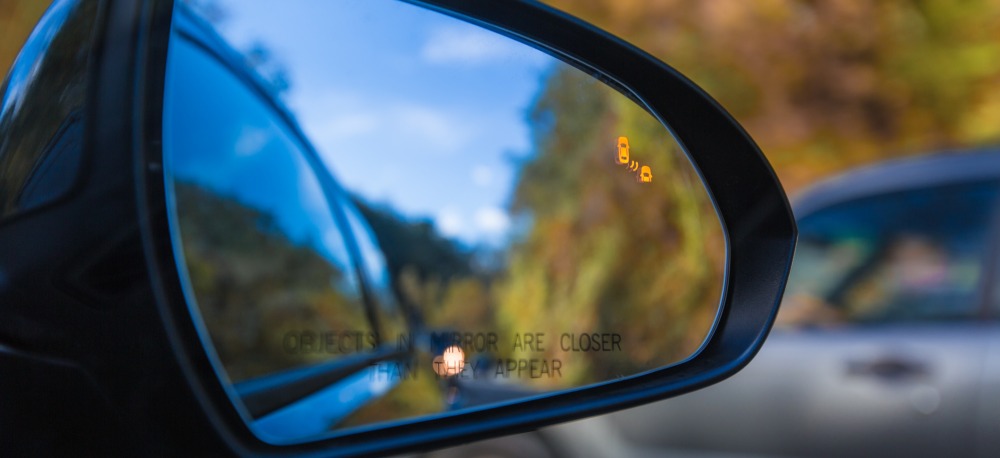 This article will look at blind-spot monitoring, how it works, and if it is worth the upgrade price. Additionally, we examine the effectiveness of blind-spot monitoring systems and discuss some of the potential drawbacks of this technology type.
What Is Blind-Spot Monitoring?
Although Blind-spot monitoring may vary depending on the automaker, the technology typically works the same across the board. The point of blind-spot monitoring is to alert the driver that someone is approaching in the next lane.
This technology uses a pair of sensors situated on the side mirrors or the rear bumper to detect approaching in the adjacent lanes. If the system detects a moving vehicle, it will alert the driver via an audible or visual warning.
While blind-spot monitors may be different depending on the make and model of the car, there are two common types of blind-spot detection systems.
Blind Spot Warning (BSW): This is the most common type of blind-spot monitoring available on the market. A BSW will alert drivers via an audible or visual warning that a car is currently in its blind spot. This system may also give a warning if the driver has the turn signal on that it's unsafe to change lanes or merge.
Blind Spot Warning With Automatic Emergency Steering: This system does the same thing as a BSW but contains an extra feature that will automatically steer or brake if the driver changes lanes when a vehicle is in its blind spot.
Since the cost of this technology has decreased, vehicles with blind-spot monitors are more common, not just luxury vehicles. Automakers such as Toyota, Lexus, Nissan, Ford, Tesla, Audi and BMW offer blind-spot monitoring systems as a feature upgrade.
---
Schedule AppointmentGet the Repair Process Started
---
However, they each have their own naming designation for this feature. For example, Toyota and Lexus call it the Blind Spot Monitor, while BMW calls it the Active Blind Spot Detection.
How Effective Is a Blind-Spot Monitoring System?
In theory, blind-spot monitoring is a great feature to help curb collisions caused by the blind spot. However, when put into practice, this system may not be as effective as originally planned.
A recent study conducted by the American Automobile Association (AAA) in conjunction with the Automobile Club of Southern California's Automotive Research Center found that blind-spot monitoring systems struggled to detect fast-moving vehicles. Alerts would often be provided too late for the driver to take action. This might cause issues when merging onto a busy highway. Additionally, blind-spot monitoring systems had difficulty detecting motorcycles. The study found that motorcycles were detected 26% later than passenger vehicles.
Another study published in the Traffic Injury Prevention journal looked at the effects of blind-spot monitoring systems on police-related lane-change collisions. This study found that lane-change collision involvement rates dropped 14% with vehicles with blind-spot monitoring active than those without it.
Additionally, the Insurance Institute for Highway Safety published some statistics around blind spot detection. Some of the key results include:
A 23% decrease in lane-change collisions with injuries
A 7% decrease in claim rates for damage to other vehicles
A 9% decrease for claim rates for injuries to people in other vehicles
What Are Some of the Drawbacks to Blind-Spot Monitoring Systems?
Blind-spot monitoring offers many benefits to the driver, but some disadvantages may turn some people off of upgrading.
While drawbacks may vary depending on the automaker, the biggest issue across the board is the ability of the technology to detect fast-moving vehicles efficiently. As mentioned previously, studies found that blind-spot monitoring systems would often alert drivers too late of an approaching vehicle in an adjacent lane.
Since most blind-spot monitoring systems work on visual cues on the driver's side mirror, it may be difficult for the driver to pick up in time. An outside circumstance such as bright lights can affect the driver's ability to notice the signal.
Additionally, BSW may provide audio cues such as a beep to indicate to the driver someone is in their blind spot. Unfortunately, many of the BSW's available on the market only provide audio cues when the turn signal is activated.
Best Practices for Driving With Blind-Spot Monitoring
Blind-spot monitoring is a great feature to have, but like most other features meant to assist drivers, it is only as good as the driver. That's why it's important to follow the best practices even when blind-spot monitoring is active. The driver should still check their blind spot when changing lanes or turning in general.
There are a few ways to identify and deal with blind spots. Some of the most common blind spot situations include:
Lane changes: A lane change is when a driver moves a vehicle from one lane to another. Data from the International Association of Traffic and Safety Sciences shows that lane changes cause about 17% of severe collisions.
Intersections and crosswalks: Things such as trees, roadside signs, and other objects may hinder the driver's ability to navigate the roads. Be sure to check the surrounding area before making a turn.
Oncoming traffic: Making a left-handed turn across traffic can create significant blind spots if the driver is not paying attention.
Gerber Collision May Be Able to Help in the Event of Collision
Blind-spot monitoring is a great tool to help drivers be more aware of their surroundings, but it's still recommended to follow best practices and check the blind spot before changing lanes or making a turn. In the unfortunate event of a collision, our team at Gerber Collision is standing by, ready to help.