According to the National Highway Traffic Safety Administration, 28,000 people were injured in collisions due to mobile phone-related distractions in 2019. This makes up 13% of all distraction-affected collisions for that year.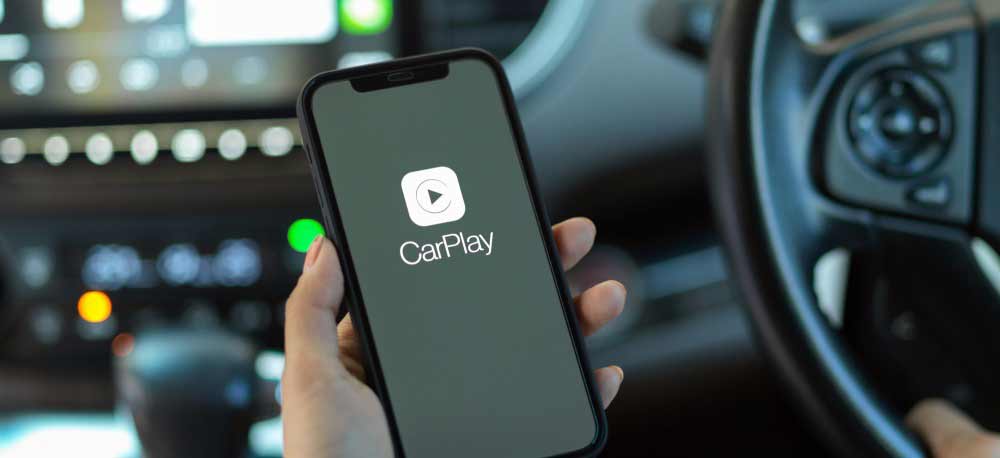 Apple CarPlay limits the need to interact with a mobile phone while driving. Users can access various programs and features using this software via voice command or touch screen on the infotainment system. This hands-free software may be a key feature drivers can use to keep their attention on the task at hand - driving without distractions.
What is Apple CarPlay?
Apple CarPlay is an app that is integrated into an iPhone's operating system. This technology is available on iPhones produced after 2013-iPhone 5 and above.
Apple refers to CarPlay as the ultimate copilot. It allows users to access voice control to engage with certain apps such as Apple Maps and Apple Music or hear and respond to texts via Siri.
CarPlay supports various third-party apps, including:
Music streaming services like Spotify
Messaging apps like Whatsapp
Navigation apps like Google Maps and Waze
MLB At Bat for audio streaming of games
Apple CarPlay aims to make interacting with a smartphone while driving safer and more accessible. To do so, Apple has restricted the types of apps that can be accessed through CarPlay, such as apps with visual content. This includes Facebook, Twitter, and YouTube.
CarPlay is designed to integrate with a car's controls, including buttons, knobs, touchpad, or touchscreen. Currently, there are more than 600 models that support CarPlay. If a vehicle does not support CarPlay, it is accessible via an aftermarket system developed by companies like JVC, Kenwood, Pioneer, and Sony.
---
Collision Repair EstimateRepairing All Makes & Models
---
How to Install Apple CarPlay
Apple CarPlay can be set up by connecting an iPhone to the vehicle via the car's USB port or Wi-Fi feature.
Siri needs to be enabled to use Apple CarPlay. To enable Siri, go to 'Settings' and navigate to 'Siri & Search.' If the iPhone works on Face ID, press the side button; if not, press 'Home' to activate Siri.
Connect the iPhone with a Lightning to USB cable. If the car has Wi-Fi, wirelessly connecting is an option. The process differs slightly between cars but usually includes three steps. First, press and hold the voice command button found on the steering wheel. Use this button to navigate through the car's menu to access the wireless or Bluetooth pairing mode.
Next, access the 'Settings' on the iPhone. Navigate to 'General' > 'CarPlay' > 'Available Cars.' Lastly, select the vehicle from the list to pair with it.
Some vehicles will automatically display CarPlay Home when the iPhone is connected. Also, most cars will not allow CarPlay to be set up while driving.
Best Practices for Using CarPlay When Driving
CarPlay is designed to help limit distractions by using a smartphone while driving. In some cases, this system is easier to use than systems produced by vehicle manufacturers. However, any time a driver interacts with a smartphone while driving, it increases the likelihood of becoming distracted.
Interacting with CarPlay, especially in touch mode, could mean that reaction times to potential hazards may be slower. People underestimate how long they take their eyes off the road when using a touch control system. According to a study conducted by IAM RoadSmart, drivers often slow down when they take on an additional skill while driving. It is believed that this shows that drivers are aware that they may be distracted and thus, compensate by slowing down.
Still, a driver's performance is often negatively influenced when interacting with an infotainment system, even if they slow down. This could be seen by how and where they keep their vehicle in a lane and the following distance they observe when interacting with their infotainment systems. That same study conducted by IAM RoadSmart found that persons interacting with Apple CarPlay's texting and calling features while driving often struggle to keep the car's position on the road. This was seen when the drivers used either the voice control or touch interaction options.
While infotainment systems like Apple CarPlay make it easier to interact with a smartphone while driving, they can still be a source of distraction.
Each state has its own laws regarding the use of a mobile phone while driving. While most states prohibit texting while driving, some states do not allow minors to use mobile phones while driving at all. That includes the use of hands-free devices or systems, including Apple CarPlay. Some states extend this to drivers who hold a learner's permit.
Tips for Using CarPlay When Navigating the Roads
To limit the distraction that could be caused by interacting with a smartphone, Apple has incorporated a Do Not Disturb While Driving feature into their products. This feature allows users to limit or silence text messages and other notifications. Phone calls will only come through in some instances. These instances include:
When the users actively set Do Not Disturb settings to allow specific calls
When using a hands-free accessory
When the iPhone is connected to CarPlay
The iPhone will automatically ask if the user wants to activate the Do Not Disturb While Driving feature if it detects that someone may be driving. Navigate to the phone's settings and 'Do Not Disturb.' Select 'Activate.' Then, the user will be prompted to choose when this feature should be activated.
While voice interaction like Siri has a slightly lower impact on driver attention than touch interaction, it could still have a similar effect on reaction time as texting while driving. When engaging with applications, including navigation systems, the best practice is to do so before departing or by pulling over if possible.
CarPlay is Great, But Collisions Are Not
Any form of distraction could lead to hazardous situations and even collisions. A driver must first and foremost be focused on all activities involved with the task of driving. While products like CarPlay aim to limit driver distraction and promote safer interaction with specific apps and functions, they could still compete for a driver's attention.
If the unfortunate happens and you have been involved in a collision, you can reach out to the collision repair experts at Gerber Collision & Glass. With more than 80 years of quality auto collision and auto glass repair experience, every Gerber shop is staffed with professional technicians who deliver outstanding customer service, including insurance paperwork assistance, twice-weekly repair updates, and quality auto collision repair; our National Lifetime Guarantee backs that.