The condition of tires plays a critical role in vehicle safety. Tires take a beating every time you drive, so it's vital that you know the signs that it's time to replace them. Here are five tire safety warning signs that you shouldn't ignore.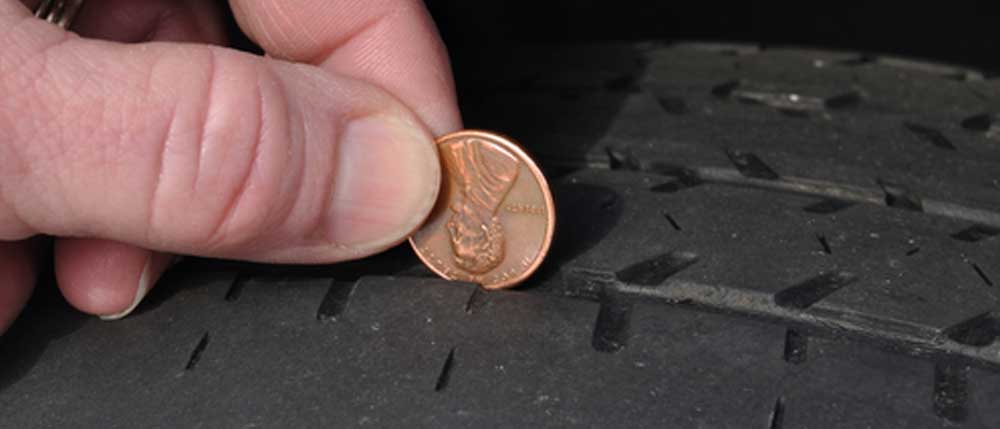 Worn tread - If you want to avoid an unnecessary accident or breakdown, replace tires when tread reaches 1/16 of an inch or less. You can easily measure tread depth with a penny, so check your tires frequently. Put Lincoln head-first all the way down into the tread. If you can still see his entire head, there's not enough tread remaining.

---
Schedule AppointmentGet the Repair Process Started
---
Visible tread wear indicators - New tires often have build-in tread wear indicator bars that make judging your tire condition easier. When tires are new, you probably won't notice the bars at all. As the tires wear with use, you'll start to see flat rubber bars running opposite to the tread direction. When the tread becomes too worn for safety, you'll clearly see one or two of these bars on the tires.

Cracked sidewalls - Damage to a tire's sidewall can result in leaks or failure, so it's important to perform visual inspections periodically, especially on older tires. Check for cracks, grooves, or what look like cuts on the sidewalls. If you find any damage, replace the tres to avert a life-endangering blowout.

Blisters or bulges - These flaws tell you that a tire's outer rubber surface is weakening, which means it's time for a replacement. These weak areas are more likely to give way when you're driving at high speeds, which is when a tire blowout can prove fatal.

Steering wheel vibrations - Vibrations in the wheel, while you're driving, can be caused by a number of problems, and worn tires are just one. Getting the source of the vibration diagnosed and resolved is key to your safety, and it can prolong the useful life of your tires too.
For more tips on tire safety, or to schedule paintless dent repair or expert auto body service, contact us today!