According to The National Safety Council, 53% of drivers believe that hands-free technology and infotainment systems make engaging with a mobile phone while driving safer. However, according to the National Highway Traffic Safety Administration, 13% of distraction-related vehicle collisions involving the use of cell phones end up fatal.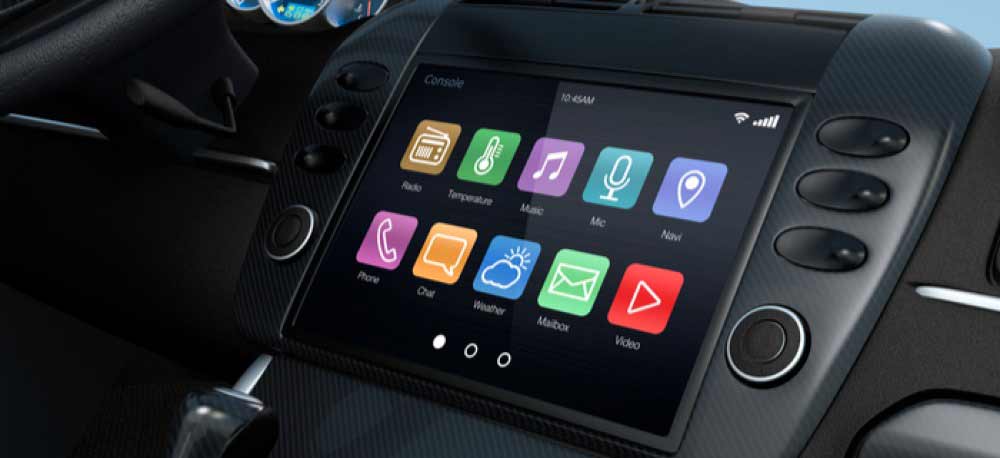 Hands-free systems like Android Auto allow drivers to use essential mobile phone apps like navigation apps and phoning while driving. They can usually be controlled via the vehicle's touch interface or voice control. Although these systems negate the need to perform functions on a smartphone physically, drivers need to adhere to safe driving practices.
What is Android Auto?
Instead of showing a mirrored version of what is on the phone screen, Android Auto was designed to make it easy to use on the car's interface. The home screen shows Google cards that provide information such as the weather, reminders of meetings, music currently playing, and directions to recently searched locations. At the bottom of the screen, there are buttons for functions like maps, music, phone, and home.
The car should have a stereo that is compatible with Android Auto to make use of the app. Android Auto is compatible with over 500 models of cars and 30 types of stereos.
---
Schedule AppointmentGet the Repair Process Started
---
There are two ways to connect an Android phone to the vehicle's infotainment system.
USB cable
Wirelessly via Bluetooth
However, the phone needs to be compatible with an aftermarket car stereo from Kenwood, Pioneer, or JVC, for an Android Auto wireless connection.
Android Auto is built into phones that run Android 10 and above. If the phone runs Android 6.0 to Android 9, an app is available to download from the Google Play store.
A variety of apps are accessible via Android Auto, including music apps, news and radio apps, audiobooks and podcasts, and hands-free communication apps. Text-only apps may not be available while Android Auto is activated. However, many text-based apps like Whatsapp and Facebook messenger can be used in voice-to-text mode.
How to Use Android Auto
Many cars will not allow Android Auto to be set up while driving. When the car is parked and safe to set up Android Auto, here are the steps needed.
Launch the Android Auto app on the phone
Connect the phone to the car via the USB cable (or wirelessly if this is an option)
A prompt will ask to turn on notifications, select: agree
Bluetooth may need to be turned on at this point. However, most compatible phones (that run on Android 6.0 or higher) will do this automatically as soon as the device is connected to the USB cable. The last step is to select Android Auto on the car's touchscreen.
Once connected, Android Auto is activated. The driver then can use it by talking to Google voice assistant or through the infotainment system.
Best Practices for Using Android Auto When Driving
Android Auto may make it easier to interact with a mobile phone while driving. Although, the possibility of distracted driving is still there.
The driver's reaction times could be significantly slower while engaging with Android Auto instead of focusing on driving. A study conducted by IAM RoadSmart concluded that drivers who use Android Auto or Apple CarPlay have less time to retract to situations. In this study, drivers who used voice control and interacted with the touch screen saw a negative effect on stopping distance-roughly four and five car lengths.
Additionally, using a system like Android Auto via the touch screen has seen drivers having difficulty maintaining their position on the road. Drivers tended to drift from the center of their lane when performing a function through the application.
IAM RoadSmart, in conjunction with TRL, found that when drivers interacted with Android Auto, both via voice and touch screen, they significantly reduced their speed. This shows that drivers change their behavior when they take on a secondary task while driving. When drivers slow down, especially while driving on the highway surrounded by traffic, this could affect traffic flow.
Tips for Using Android Auto When Navigating the Roads
Driving performance is affected more when the driver is engaged in activities that require them to take their eyes off the road. Thus, using voice control is preferable over using the touch screen interface. Android Auto makes use of Google Assistant to enable voice control. Google Assistant can be launched by tapping on the microphone icon found in the top right corner of every screen.
When using a navigation app, the best practice is to engage with the app while stopped. Program the destination before departure and pull over to make any changes if it is possible and safe to do so.
Android Auto May Limit Collisions, but the Possibility Is Still There
Android Auto provides for hands-free engagement with apps on a smartphone that a user may need while driving. While the use of a hands-free system is perceived as safer, it could still cause the driver to become distracted. Voice control features provide slightly less distraction. Still, the driver should always maintain awareness and focus on driving activities as their main priority. Gerber Collision & Glass is standing by, ready to assist if a collision occurs.