According to the U.S. Department of Transportation's Federal Highway Administration, wet road conditions contribute to more than 950,000 car accidents and cause over 384,000 injuries and 4,700 fatalities every year. Knowing essential wet weather driving strategies can reduce the likelihood of an accident and let you reach your destination safely.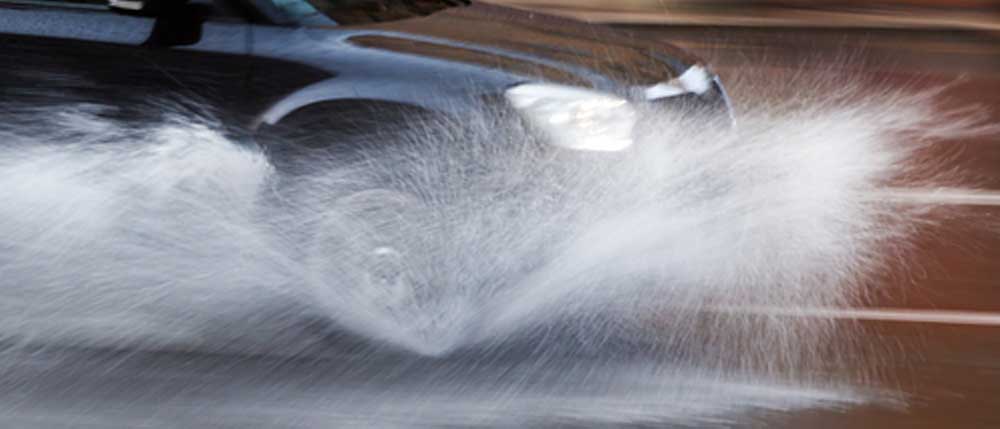 Keep the Vehicle Well Prepared
Rainy or wet conditions decrease visibility and make it more difficult to maintain control, so it's vital to have your car prepared:
---
Schedule AppointmentGet the Repair Process Started
---
Make sure the headlights, brake lights, taillights, and turn signals are fully functional. Remember to turn on the headlights before you get on the road.
Replace tires that don't have sufficient tread left to grip the road surface properly.
Check tire pressure monthly. Be sure to go by the pressure listed in the owner's manual or driver's door pillar, not on the tire sidewall. Driving with under- or over-inflated tires can compromise braking, cornering, and stability.
Slow Down and Stay in Control
When traveling on a wet, slick pavement or through areas of standing water:
Allow extra distance between you and the car ahead to avoid a potential rear-end collision.
Drop your speed so you can react quickly if the car hydroplanes. This can occur when the tires can't push water out of the way fast enough and lose contact with the pavement.
Don't use cruise control. Having your foot on the gas pedal is vital so you can feel and respond to a loss of traction immediately.
Start slowing down well in advance of making a turn and when approaching stop signs and intersections.
Don't apply the brakes if you start to skid unless your car is equipped with an anti-lock braking system (ABS). Instead, steer in the direction that you want the front of the car to go. If you have an ABS, apply the brakes firmly while you steer.
When wet weather driving causes collision damage to your car, contact us at Gerber Collision & Glass for repair expertise that's backed by a lifetime guarantee.