Being involved in a collision can be stressful. Many drivers may find themselves overwhelmed following the incident, and may be at a loss of what to do.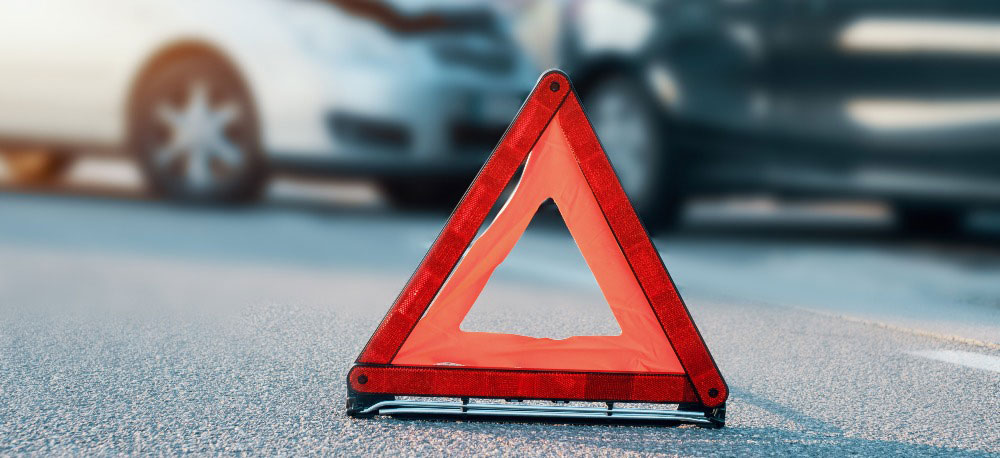 According to the Insurance Information Institute, there are several actions that drivers involved in an incident should keep in mind. Of course, it's important to remember that every city has its own sets of legal requirements for handling collisions. Refer to your local state authority to ensure that you are following the law.
What To Do After a Collision Checklist
1. Assess your safety
The first thing you should do after being involved in a collision is to check yourself and passengers for injury. If you're hurt, call 911 immediately. If you're unable to, call out to someone who is able to.
2. Remain calm
The second most important thing to remember in the event of a collision is to remain calm. Consider taking a few moments to center yourself so that you can approach the following events with a clear head.
3. Stay at the scene
Leaving the scene of an incident before speaking to the other driver and, in some cases, 911 is illegal. Do not try to leave the scene before gathering all required information and determining the next steps on what to do with your vehicle.
If your vehicle is in an unsafe location and is able to move, consider moving it to a safe location near the scene of the collision. If you cannot move your vehicle, consider stepping away from the car to a safe location to prevent any further incidents or injuries.
---
Collision Repair EstimateRepairing All Makes & Models
---
4. Talk to the other driver
If you're in a collision that involves another driver, you may need to collect essential information from them. First, ensure that they are not injured and do not need you to call for help right away. Next, consider collecting their basic driving and contact information, including:
The names of the driver and their passengers
Their car insurance information, such as their carrier, policy number, phone number, and agency
Their license plate number
Their driver's license number
This information may be useful when making an insurance claim for any car damages and will be important to keep on file if any issues arise.
5. Contact 911
If the collision results in injuries or damage to private or public property, it is your responsibility to contact the police to file an incident report. Of course, if there are any injuries sustained during the incident, 911 should be called right away.
6. Take pictures
While you're collecting information about the incident, it may be helpful to take pictures of the collision. Using your phone camera, consider taking photos of the following areas:
Any vehicle damage
Any property damage
Skid marks on the ground
The entire surrounding scene
These images can act as records of the incident and can be used by insurance adjusters to make claim assessments when going over the damages.
7. Gather additional information
Once you've taken your photos, consider gathering as much additional information as possible. Talk to witnesses, and be sure to take notes of any details that may become important later, such as:
Names and contact information of witnesses
The time and date of the incident
The address of your location
The direction you were driving in
The direction the other car was driving in
What happened from your memory
What witnesses saw
Any information about driving conditions
These notes may come in handy if you forget something later on.
8. Collect a police incident report
If the police were called, remember to collect a copy of the police report. This will contain other essential information for filing a claim with your auto insurance.
While you're collecting the report, consider taking down the name, badge number, and contact information of the officers that report the incident in case you need to contact them regarding the event in the future.
9. File your claim
If your vehicle has sustained any damage in the collision, call your insurance company to report your claim. It's possible your insurance company may send an adjuster to estimate the damage to your car and issue a check to pay for the repairs.
How to Handle Car Damages After A Collision
If your car sustains any damage during a collision, one of your options is to take it to a collision repair center. Even if your car seems drivable, there's a chance driving away from the incident may cause more damage to your vehicle.
From bent frames to a cracked windshield, Gerber Collision & Glass has provided quality auto collision and auto glass repair work for more than 80 years. Every Gerber shop is staffed with professional technicians who deliver premium customer service, including insurance paperwork assistance, twice-weekly repair updates, and quality auto collision repair that is backed by our National Lifetime Guarantee.
Call us at 1-877-7GERBER or schedule an appointment today.