Hydroplaning is a risk when you're driving in rainy weather. By learning what causes this phenomenon and how to deal with it, you'll be better prepared for this nerve-wracking safety threat if and when it happens.
What Makes a Car Hydroplane?
When the tires can't scatter the water in front of your car's wheels out of the way quickly enough, hydroplaning occurs. The water pressure in front of the tires pushes the liquid under the wheels. While the tires are on top of this thin film of water with no traction on the roadway, you lose both steering and braking capabilities.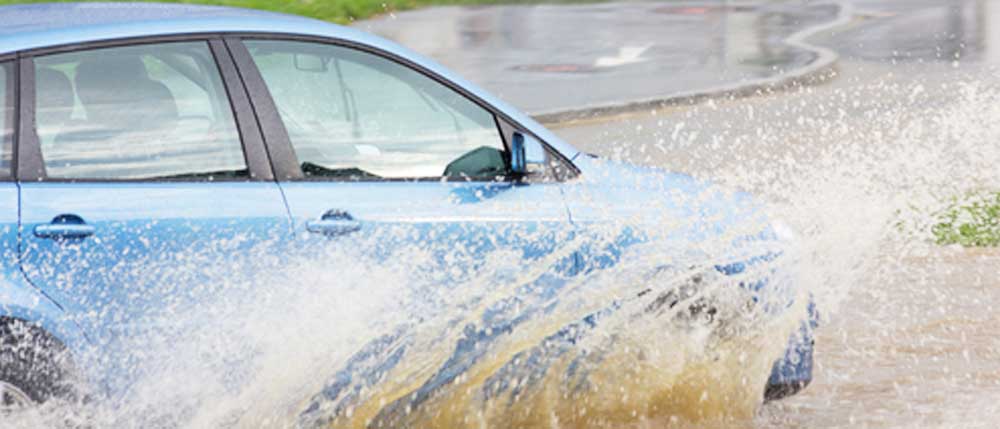 How to Avoid Hydroplaning on Wet Roads
Hydroplaning is more likely to occur in the first few minutes of a light rain due to the slippery conditions created by the rain mixing with the oily residue on the surface of the road. Here are some effective ways to lessen your risk of an accident or collision:
Keep your tires rotated and properly inflated.
Make sure the tires have a good amount of tread. If they're worn, replace them.
Drive slowly so your tires can scatter the water on the road.
Steer clear of puddles and standing water when possible.
---
Schedule AppointmentGet the Repair Process Started
---
Try to aim for the tire tracks left by the cars ahead of you.
Stay toward the center of the road, away from water accumulations on the outer edge.
Disengage cruise control.
Don't apply the brakes hard.
Avoid quick or sharp turns.
When Your Car Does Hydroplane...
If you feel the vehicle hydroplaning, don't apply the brakes or turn the wheel suddenly or you could skid. Take your foot off the gas and let the car slow down until you feel the tires regain traction. If braking is unavoidable, pump the pedal lightly. If you have ABS brakes, apply them as you normally would, and let the computerized braking system make the adjustments.
Accidents can happen when you're driving in rainy weather, even if you take all the right precautions. When you need trustworthy, expert auto body service, contact us at Gerber Collision & Glass