As the weather begins to heat up, thoughts turn to vacations and possibly a summer road trip. The call of the open road is strong, and it can be tough to resist the urge to hop into your car and head off on an adventure! However, before you start making any plans, it is a good idea to do some preparation work ahead of time, to make sure your car is as safe as possible for a stress-free trip. The last thing you want is to have it tarnished by an unexpected visit to an auto body shop!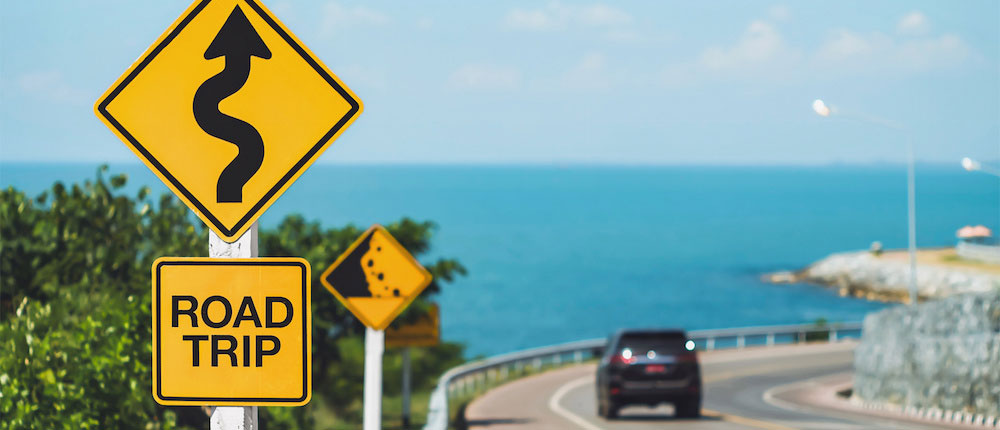 Fun Fact! It is estimated that 69% of Americans cite a road trip as their favorite way to spend a vacation. (Source: AAA)
Pre-Trip Checks for a Safer Road Trip
There are a couple of simple checks to make before taking a road trip, to help things go more smoothly – your car included!
Oil – When was the last time you changed your oil? If you are planning a road trip, then now is the perfect time to get an oil change. Don't wait for the warning light! Regular oil changes help reduce wear on your engine, especially in warmer weather.
Fluid Levels – The cooling system is an important element when it comes to keeping your car at optimal performance! Most engines have a running temperature of around 200 degrees, but at just 50 degrees more there is a danger of overheating which can cause extensive engine damage and endangers anyone in the vehicle. There is not a great deal of leeway for this, so always make sure your fluid levels are topped up – especially before a long road trip.
Tires – Your tires are the only part of your vehicle that comes into contact with the road, making them incredibly important! All of your tires should be in good condition before a road trip, which includes deep enough treads to offer the appropriate traction and of course the right tire pressure. Check the spare too just in case!
---
Schedule AppointmentGet the Repair Process Started
---
Road Safety Tips for Your Road Trip
Aside from ensuring your vehicle is in good working order, it is also important to consider a few safety tips for the road. The last thing you want to happen while on vacation, is for your car to end up in the auto body shop as a result of an accident – especially one that could have been avoided by taking a few simple steps.
Keep Your Eyes on the Road – Do not fiddle with the radio, answer your phone, or adjust your navigation system while at the wheel. These kinds of distractions are among the most common causes of auto collisions. If you are on a road trip, have a passenger handle those things – or pull over for a few minutes.
Pay Attention When Changing Lanes – Changing lanes are another danger point, especially if you are on unfamiliar roads. Know and plan which lane you need to be in and make transitions carefully. Use your blinker and keep an eye on other road users. This is a great way to avoid an unscheduled trip to the auto body shop!
Watch Your Speed – There is something about cruising the open road that tempts us to push the limits – speed limits that is. Always adhere to the posted speed limits for your safety and the safety of others. In an unfamiliar area, if you are not sure of the speed limit, it is best to err on the side of caution and go a little slower than you estimate.
Hopefully, these tips will help make your summer road trip a successful one, that keeps you out of the auto body shop! If you do get in an unfortunate accident, then remember we have branches nationwide.
--
Founded in Chicago, IL in 1937, Gerber Collision & Glass has provided quality auto collision and auto glass repair work for more than seventy years. What started as a single auto glass and trim shop in Chicago has grown to one of the largest auto collision and glass repair companies in North America.
Call Us Now at 1-877-7GERBER or Schedule an Appointment Online!