Unsurprisingly, the first thing many drivers involved in an accident want to do is head home. However, getting home may not be easy - especially if your car has been significantly damaged.
Although you may think your car is safe to drive, it may have received more damage than you think. Even if the car moves, it may have been damaged to a point that can be dangerous to yourself or others on the road.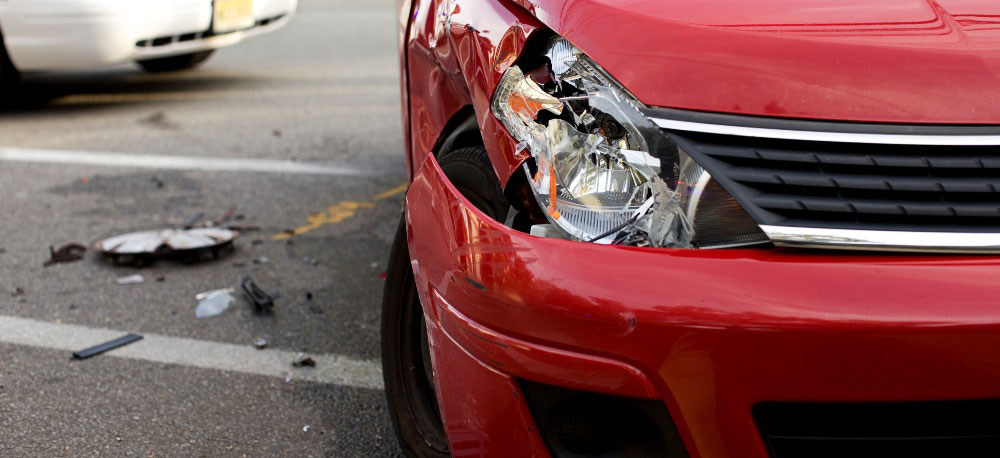 Before getting in your car and driving away from the scene, it's important to inspect the car for damages to determine if it is safe or even legal to drive. Luckily, there are some basic areas and parts of your car you can check before deciding to call a tow truck and taking your car to a collision center.
Damage to Look For After a Collision
Headlights, tail lights, and blinkers
Broken headlights, tail lights, and blinkers are common results of collisions. Not only can driving without them be dangerous, having non-functional lights is illegal in almost every state. Driving without them could lead to getting pulled over and receiving a ticket.
Leaking fluids
If you check under your car and see that it is leaking oil or transmission fluid, it is not likely that your car will go very far. This would be a strong sign to call a tow truck.
Wheel and tire damage
It goes without saying that a car with a flat tire will not be going anywhere. However, tire damage could indicate issues with the wheel itself. If your wheel is bent in any way, it will take more than a spare to get your wheels turning again.
Loose parts on the vehicle
If any part of the vehicle is loose and looks like it may fall off, there's a chance that this piece may fall off while driving. This could lead to even further damage to your vehicle and puts others on the road in danger. Even if the piece can be removed before driving away, doing so incorrectly could lead to further damage once you get back on the road.
Cracked or damaged windshields
Cracked windshields impair vision and are often considered too dangerous to drive with. Even if the crack or nick is small, it can grow over time and cause further visual impairment. If the crack is too big, you may even be pulled over and ticketed in some states.
Frame damage
While you may be able to drive your car with a bent frame if the damage is minor, some frames may become jagged, sharp, or cracked. In addition to being dangerous if they come in contact with a person or another car, damaged frames may ruin other parts of the car when in motion, such as the gas tank, engine, or electrical components. If the damage is significant, you may have to tow your car to a repair shop.
Damaged bumpers
Bumpers may become cracked or loose during collisions. If your bumper appears to be ready to fall off or has sustained damage that may hurt pedestrians or others on the road, it may be safer to have the bumper repaired before getting back on the road.
Bent hoods
Just like cracked windshields, hoods that have been bent or smashed may impair your vision on the road. If you are unable to see over your hood after a collision, it may not be safe to drive your car away. Additionally, removing the hood yourself can be difficult and may cause more damage. Depending on the severity of the damage, a tow may be in order.
Mirrors
The Federal Motor Vehicle Safety Standards No. 111 requires all vehicles to have one or more review mirrors as a way to reduce injuries caused by vision obstruction. If your mirrors come off or are damaged to a point that they cannot be used, you may not legally be able to drive your car until they are replaced.
License plates
In order for your car to be driven legally, your license plate must be visible to law enforcement. If it has fallen off or ruined during a collision, consider replacing or prominently displaying it before driving away.
Exhaust, mufflers, and emission control systems
These external car parts play an important role in handling the byproducts of your car's engine. Driving without a working exhaust could lead to toxic byproducts that put drivers and passengers at risk.
---
Schedule AppointmentGet the Repair Process Started
---
Laws About Damaged Vehicles
Even if your car can move after a collision, it may not be drivable in the eyes of the law. Although laws may differ based on your location, most states have laws that prevent driving damaged cars if the damage represents a danger to passengers, other drivers, and pedestrians.
Remember, these laws are in place to keep drivers, passengers, and pedestrians safe. Depending on your local state driving laws, you may be pulled over and ticketed for not following road safety protocols.
Repairing Your Car After a Collision
Collisions often damage cars more than it may appear upon initial inspection. If your car is not repaired right away, driving the car further may create more serious damage that could be much more costly to repair.
If your car is in an accident and needs to be repaired, Gerber Collision & Glass can help. For more than 80 years, North Americans have entrusted their automotive repairs to the experienced professionals at Gerber Collision & Glass. Offering premium customer service and one of the fastest cycle times in the industry, our quality workmanship is backed by our National Lifetime Guarantee for as long as you own your vehicle.
Call Us Now at 1-877-7GERBER or Schedule an Appointment Online!