Dents that mar your car's finish can have various causes. Perhaps you got caught in a hailstorm, you were involved in a fender bender, or maybe the damage mysteriously appeared while the car was parked. Regardless of the cause, the end result is a less than pristine appearance. Opting for paintless dent repair (PDR) offers you a fast, cost-effective way to erase unsightly dents so the damage is virtually undetectable.
Benefits of Paintless Dent Repair
Value retention - Compared to traditional repairs that require the use of body filler and repainting damaged areas, paintless dent repair can help maintain your vehicle's value. When a skilled technician corrects defects using specialized PDR tools and procedures, the original factory finish isn't altered and there are no concerns about overspray or paint color differences.
---
Collision Repair EstimateRepairing All Makes & Models
---
Time savings - Paintless dent repair takes only a fraction of the time to complete conventional bodywork. Depending on the size and number of dents requiring repair, the entire process can take hours compared to the days or even weeks necessary for traditional bodywork procedures.
Lower cost - Since paintless dent repair takes less time than a conventional repair, labor costs are considerably lower. When you factor in the savings on materials such as body filler, primer, and coats of expensive auto paint, it's easy to see how choosing PDR can save you money.
Environmentally-friendly - With PDR, there's no negative impact on the environment. The air isn't polluted by the release of noxious chemicals from body filler, auto paint, and paint thinner, and there's no risk of groundwater contamination.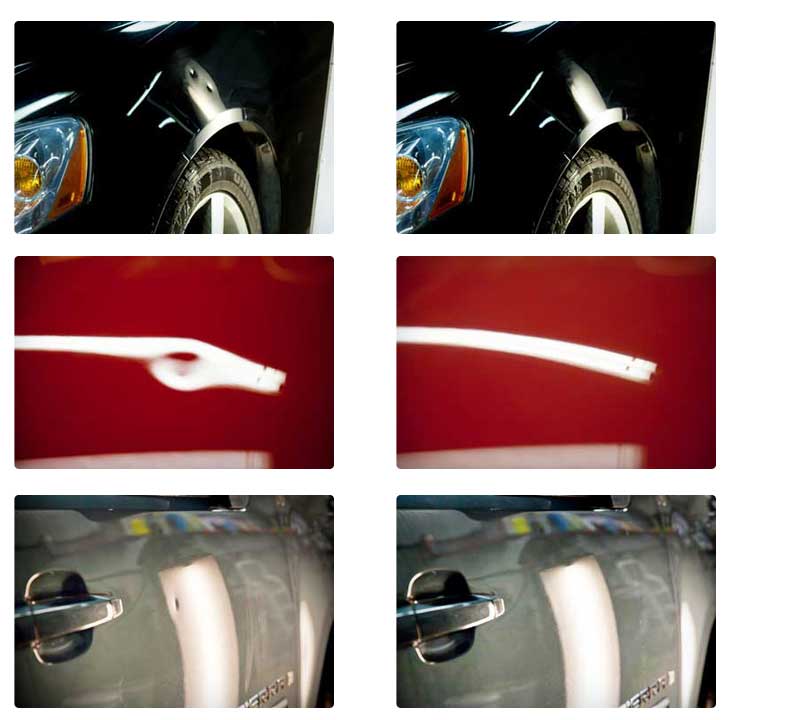 Is Your Car a Candidate for Paintless Dent Repair?
Some dents can't be fixed with PDR. It all depends on whether the paint inside the dented area is broken or scratched, as well as the depth of a dent and where it's located.
To learn more about the benefits of paintless dent repair and whether it's the right solution for the damage on your car, drop by one of our convenient locations or contact us today at Gerber Collision & Glass.