Traffic roundabouts are circular intersections meant to safely and efficiently move traffic. According to the U.S. Federal Federal Highway Administration, the early versions of roundabouts - also called traffic circles, road circles, rotundas, and rotaries - have existed in Europe since the late 1700s. The Place de l'Étoile, which rings the Arc de Triomphe in Paris, is one of these early circular junctions. After falling out of favor, their use again became widespread beginning in the United Kingdom in 1956.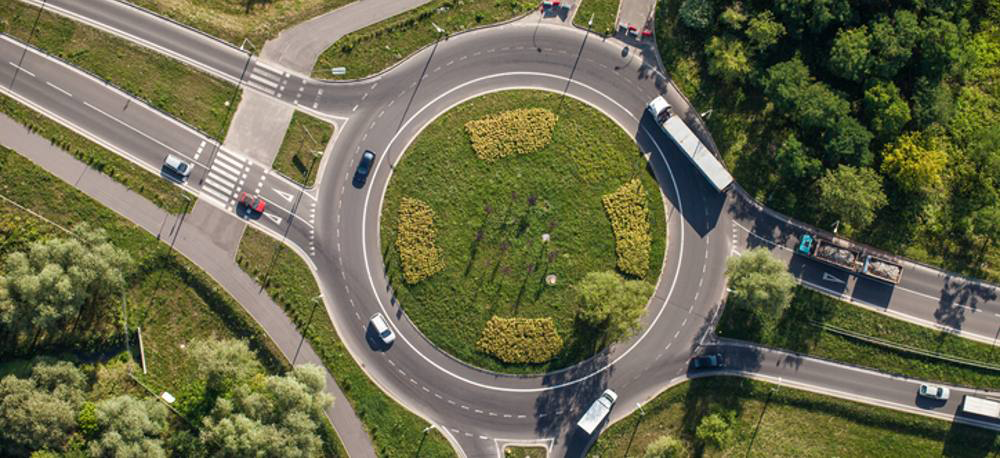 Roundabouts are far less common in the United States, although early versions include Columbus Circle in New York City, built-in 1905. According to the FHA, the first modern American roundabout was built in 1990 in Summerlin, Nevada. By 2021, there were nearly 8,000 roundabouts in the United States, according to Kittleson & Associates, a traffic engineering firm that tracks them.
Strict laws governing the movement of vehicles in a roundabout are meant to help drivers avoid major collisions, but a lack of driver knowledge about roundabout rules can lead to different types of minor collisions. Here is a look at what roundabouts are, why they work, and how to navigate one to keep yourself and others safe.
What Is a Roundabout and Why They're Beneficial
Roundabouts are a type of raised, circular intersection without traffic lights. According to the FHA, they feature channelized, curved approaches to reduce vehicle speed, yield points to control entry and exit, and counterclockwise flow around a central island to minimize conflict points. The agency says roundabouts can:
Improve safety
Promote lower speeds and traffic calming
Reduce conflict points
Lead to improved operational performance
Meet a wide range of traffic conditions because they are versatile in size, shape, and design
They also can protect bicyclists and pedestrians because of the lower speeds.
There are many safety benefits from modern roundabouts, according to the Insurance Institute of Highway Safety, including:
90% reduction in fatal collisions
75% reduction in injury collisions
30-40% reduction in pedestrian collisions
10% reduction in bicycle collisions
30-50% increase in traffic capacity
Roundabouts also can lead to a reduction in fuel consumption and pollution, installation and repair of signal equipment, and noise in neighborhoods.
However, roundabouts can be confusing. A study of traffic circles in Wisconsin, while noting a decrease in car deaths and injuries, found a 12% increase in collisions, according to Bloomberg. These crashes, possibly caused by driver unfamiliarity with how roundabouts work, mainly caused property damage.
Here is how to drive in two different types of roundabouts.
How to Navigate a Single-Lane Roundabout
Single-lane roundabouts can be the easiest to use when you know how. Two simple single-lane roundabout rules, which apply to all roundabouts, are your guide to using them safely:
Yield to traffic already in the circle. Pull up to the yield sign and look for motorists already in the roundabout. Slow down or stop to traffic approaching from the left. Wait for a gap in traffic, and then enter the roundabout.
Watch your speed. The Arizona Department of Transportation recommends entering the circle at 15-25 mph. Let circulating vehicles go ahead and observe all one-way signs. You should look for bicyclists, emergency vehicles, large vehicles, and pedestrians, being ready to stop for them.
When in the circle, a right turn will be your first exit, and you can go straight by taking the second exit. For a left turn, go further around the circle and take the third exit. If executing a U-turn, make sure to go around the circle and take the fourth exit, observing the one-way signs.
How to Navigate a Multiple-Lane Roundabout
Multiple-lane roundabouts can be a little trickier than single-lane circles. Here are some key multilane roundabout rules for drivers safely in them:
For right turns, you should travel in the right-hand lane and use your turn signal when ready to turn
For left turns, travel in the left-hand lane and use your signal
For continuing forward, remain in the lane you entered
If you miss an exit, circle around the roundabout again, changing lanes when safe and using your signal.
The AARP lists a few mistakes to watch out for in multiple-lane roundabouts:
Failure to yield to traffic
Following another car too closely
Making sudden moves from lane to lane
Driving beside another vehicle in their blind spot
Collision in a Roundabout? Gerber Collision Is Here to Help
By observing the rules and tips, you can avoid collisions in unfamiliar roundabouts. However, if you do have an incident, Gerber Collision can help. Get an online repair estimate, call us at 1-877-7GERBER or schedule an appointment online.