Anytime someone gets behind the wheel, the odds of getting into a collision increase exponentially. While a 2016 study conducted by the National Highway Transportation Safety Administration (NHTSA) concluded that approximately 95% of auto collisions resulted from human error, automakers and safety agencies are working toward decreasing the overall odds of fatalities.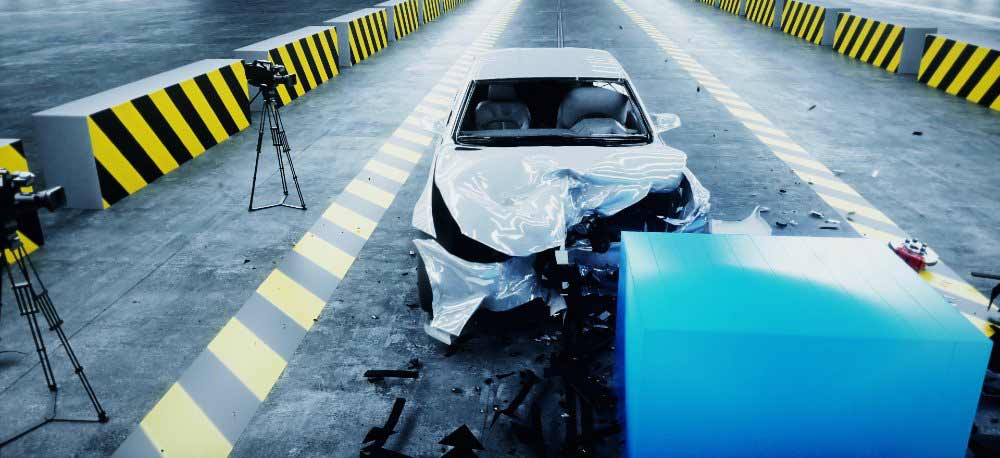 The vehicle safety rating should be a significant factor when deciding what car to purchase. Understanding how the institutes determine a vehicle's safety rating and crashworthiness can be difficult, but this guide should help clarify any misconceptions. 
Keep reading to discover the types of crash and safety tests performed by the major institutes, what the safety ratings mean, and some of the advanced safety features implemented into modern vehicles.
What Are the Types of Crash and Safety Tests Performed?
The NHTSA and the Insurance Institute for Highway Safety (IIHS) are the two main entities that perform collision and safety tests. These agencies perform rigorous tests to determine the safety of the vehicle's structure, airbags, collision compatibility between various car types, and much more.
So, how are cars tested for safety? Here are some of the main aspects covered during safety evaluations and crash-testing procedures.
Frontal-impact tests: You may recognize the frontal-impact tests from the commercials with the crash test dummy. The NHTSA and IIHS conduct frontal-impact collision tests against a barrier to measure the overall force on crash test dummies.
Side-impact tests: During the side-impact test, the agencies perform various tests to determine how the vehicle's structure absorbs a collision when hit on the side. One of the main side-impact tests is called the sideways pole-impact test. The side of the car will collide with a pole to simulate real-life situations.
Rollover tests: Vehicles are catapulted sideways to test the safety ability for rolling over.
Safety-equipment tests: Vehicles are tested to evaluate the strength and use of other safety equipment, such as child seats and restraints.
Roof-strength tests: During these series of tests, the NHTSA and IIHS will use a machine to demolish the roof structure. This test will determine how much weight is required before the roof fails. A minimum standard must be met.
Headlight tests: Headlights are tested and graded for visibility. Standard and upgraded optional headlights are evaluated.
Driver-assistance features: Advanced features such as blind-spot warning, automated braking, and pedestrian detection are assessed and scored.
LATCH/Child Seat Safety: NHTSA and IIHS may test the ease with which a child car test can be anchored. Moreover, they may also evaluate child car seats to ensure safety standards are being met.
These areas are most common during safety evaluations and crash-testing procedures. However, not every vehicle on the market undergoes these rigorous collision and safety evaluations. Vehicles such as supercars, hypercars, and ultra-luxury cars may skip the collision test process. That is mainly due to high asking prices, low sales, or limited edition production.
What Do the Crash Tests and Safety Ratings Mean?
NHTSA and IIHS use similar procedures to evaluate a vehicle's safety. However, they each use different grading scales. While their grading scales are slightly different, they maintain a comparable standard. Let's delve into the NHTSA and IIHS crash tests and safety ratings.
NHTSA Safety Ratings
Vehicles graded by the NHTSA are given star ratings. A 5-star rating is considered the highest of the NHTSA crash test and safety ratings. They conduct tests on new and popular vehicles. 
They perform frontal, side, and rollover tests. However, they do not execute tests on rear impact due to budget constraints. According to the NHTSA website, they prioritize front and side impacts because those situations account for most collisions that result in death or severe injury in the United States.
Aside from frontal, side, and rollover tests, the NHTSA evaluates diver-assistance and safety technologies, such as automatic emergency braking and tire-pressure monitoring systems.
The NHTSA's safety ratings program is constantly updated to provide consumers with the most accurate data available. NHTSA uses four prerequisites when determining updates to its program. Per the NHTSA website, those requirements include:
Does the update address a significant safety need?
Do vehicle designs exist for the update?
Does an objective test procedure exist for the update?
Does the update have the potential to improve safety?
The NHTSA has also created an Office of Behavioral Safety Research to curb unsafe driving practices.
IIHS Crash Tests and Safety Ratings
Like the NHTSA, the IIHS provides safety ratings for new and popular vehicles. IIHS has started to differentiate itself from the NHTSA with its scoring model. Instead of star ratings, they give cars a designation of poor, marginal, acceptable, or good in several categories.
Additionally, IIHS may grant specific vehicles with their Top Safety Pick or Top Safety Pick+ awards. For a vehicle to be presented with this prestigious designation, the car must score well in all categories, such as front- and side-impact tests, crash-prevention tests, roof-strength tests, headrest tests, and 'good' or 'acceptable' in optional headlight tests.
Advanced Vehicle Safety Features
Vehicles rated highly by the NHTSA and IIHS are deemed safe to buy and drive. Vehicles that are scored well generally have advanced safety features. There are two main types of safety features in modern vehicles-passive and active. Let's delve into each of these features to see what they mean for overall safety.
Passive Safety Features
Passive safety features are not activated until the system is needed. These features will only engage in the event of a collision to reduce further damage and lessen the risk of injury. Some of the most common passive safety features include:
Airbags
Pre-tensioned seat belts
The vehicle's structure is designed with crumple zones and strength glass
Active Safety Features
Such as the name implies, these features are always active and designed to prevent collisions from occurring. Unlike passive safety features, active safety features tend to be electronic systems controlled by the vehicle's internal computer system. 
The list of active safety features may grow as technology becomes more advanced. The following active safety features are most common in modern vehicles.
Forward collision warning
Automatic emergency braking
Adaptive cruise control
Lane departure warning
Blind-spot monitoring
Lane-assist warning
Rear-cross traffic alert
Since these features mainly use technology, there is always the opportunity for one of the features to malfunction. Using driving best practices is recommended to mitigate the chance of a collision.
Collisions Can Still Occur With a Highly Rated Vehicle
Most modern vehicles are put through strenuous tests to provide the consumer with the knowledge that their car will do everything in its power to reduce the effect of a collision. While the vehicle may be deemed safe by reputable institutes, humans are still behind the wheel, and a collision can happen at any moment.
In the unfortunate event you happen to be in a collision, our excellent technicians at Gerber Collision are happy to help. We offer windshield replacement and repair, auto body repair, hail damage repair, and paintless dent repair. Contact Gerber Collision at 1-877-743-7237 or schedule an appointment through our online portal.