If you've been in a collision, there is a chance your vehicle may have sustained frame damage. A damaged frame can be dangerous to drive with, and may even lead to further damage if left in disrepair.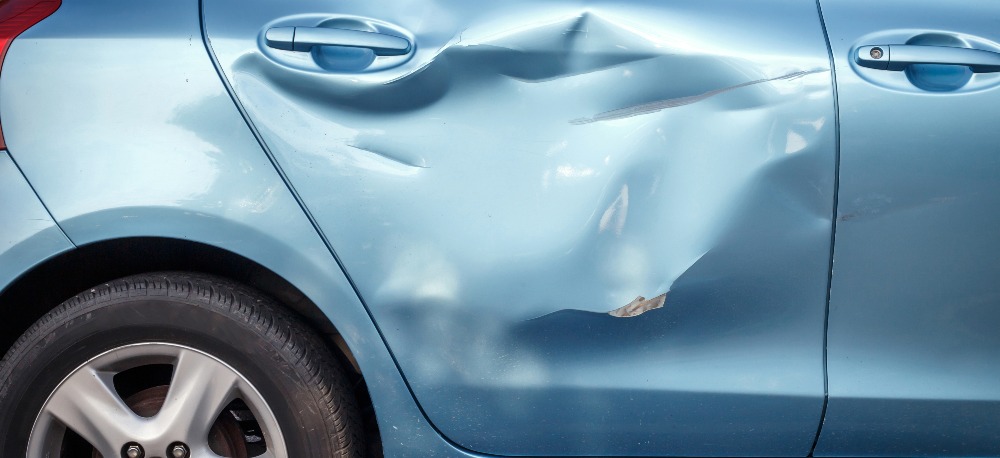 Thankfully, frame damage is often repairable. Here's everything you need to know about frame damage and repair.
What is the frame of a car?
A car frame, also known as a chassis, is your car's structural support system. Made of steel or aluminum, the purpose of a car frame is to:
Support all mechanical components of the car
Support the car body, or shape
Support the weight of the vehicle
Protect all internal car parts and passengers in the event of a collision
---
Schedule AppointmentGet the Repair Process Started
---
There are two main types of car frames - a unibody design and a body-on-frame design. Unibody frames are designed to be a part of the car body, meaning that the two parts are attached and work together to support the entire vehicle. This frame type is most commonly seen in passenger cars.
A vehicle with a body-on-frame design, also known as a ladder frame, has two separate parts that are not merged together. This means that the body of the car is often bolted down onto the frame. This frame style is mostly seen in trucks, buses, and SUVs.
Mechanics often refer to the car frame by sectional components, such as:
Core support
Unirail
Strut tower
Firewall
Apron
Floor plan
A, B, & C pillars
Rocker panel
Quarter panel
Rear support
Each section has its own purpose and protects or supports a specific area of the vehicle. Breaking down the different sections of the frame can help mechanics better identify damage in order to repair it efficiently and effectively.
What is frame damage?
The term "frame damage" can refer to any damage to parts of the vehicle intended to support the vehicle's structural integrity. This damage is typically caused by outside forces, such as collisions or disrepair.
When a vehicle's structural support is damaged, it can make the car too unstable to drive or put other parts of the car that the frame supports at risk. In turn, these potential hazards can compromise passenger safety, making the car too unsafe to drive.
There are different levels of frame damage that can occur based on the depth of the damage. Minor damage may refer to any injury to the car body that does not directly affect the vehicle's main structural support. This could include things such as dents in the outer panels or scratches in the car's paint. Major damage may refer to any damage that compromises the main structural support, including bent beams, crumpled panels or compromised alignment support.
One area of the vehicle frame to consider when assessing frame damage is the crumple zones. Designed to protect passengers in the event of a collision, these zones are often found at the front or the rear of the car. During a collision, the zones are engineered to absorb kinetic energy by folding or crumpling, thus protecting passengers and ultimately lowering the rate of passenger fatalities in collisions.
Can you drive with frame damage?
If a vehicle receives only minor frame damage, it's possible that your car may be drivable. However, some damage may be more severe than it seems on initial inspection and may affect further parts of the car when it is driven. This could put passengers or others on the road at risk.
Another aspect to consider is the car's ability to protect you if you experience another collision. If the car has sustained structural damage before, it may not be able to provide the same level of protection in future incidents.
Additionally, it's important to be aware of the damaged car laws in your area. Some states deem driving with a damaged car illegal, particularly if the car presents a danger to the driver or others on the road.
The best option after a collision is to bring your car to a collision repair center. Professional collision repair specialists will be able to quickly identify the true severity of your frame damage, ensuring that your car is safe to drive and preventing any further damage.
How to check for frame damage
If you've been involved in a collision, you'll want to make an initial assessment of how much damage your car has sustained before determining if you should request a tow truck or not. One of the first areas to check is the car's frame.
Once you've gotten out of the vehicle, take a close look at the car from every angle. If there are any minor dents or scratches, you may be able to drive away. If there are any visible crumples, major dents, or obvious damage that may prevent the car from moving forward, you may need to call a tow truck.
Of course, having a professional assess the damage after the accident will provide a more accurate understanding of how damaged the car truly is.
If you choose to drive your vehicle away from the scene, pay attention to how it is driving. If the car pulls to the side, begins to vibrate uncontrollably, makes odd noises, or has difficulty turning or staying stable at high speeds, there may be a serious underlying issue with the frame. Take it to a collision repair center immediately to assess the damage.
Should you repair your frame if it's damaged?
In many cases, car frame damage can be repaired. In some cases, dismantling the vehicle and using realignment tools and frame straighteners may return the car to a usable state. In other cases, such as minor damage like dented doors or major damage to specialized metal parts like the pillars or unirail, replacement parts can be used.
Whether or not frame damage should be repaired is based on two main factors: the severity of the damage and the cost. If the damage is so severe that repairs may not be possible, the car is considered to be at a total structural loss. If the cost of repairing the damage costs more than the worth of your vehicle, the car is considered "totaled."
Regardless of the severity of the damage, it's in your best interest to have your car checked for frame damage by a professional. The experts at Gerber Collision & Glass have over 80 years of car frame and body repair experience. In addition to expert workmanship and efficient timelines, we offer insurance paperwork assistance, twice-weekly repair updates, and quality auto collision repair that is backed by our National Lifetime Guarantee.
Call Us Now at 1-877-7GERBER or Schedule an Appointment Online!