The key to keeping your car running smoothly is to keep up on regular maintenance throughout its lifetime. Regardless of where you live or what car you drive, staying on top of your manufacturer's recommended maintenance schedule can be vital in maintaining your vehicle's performance. As seasons change, the types of maintenance your car may need may also change.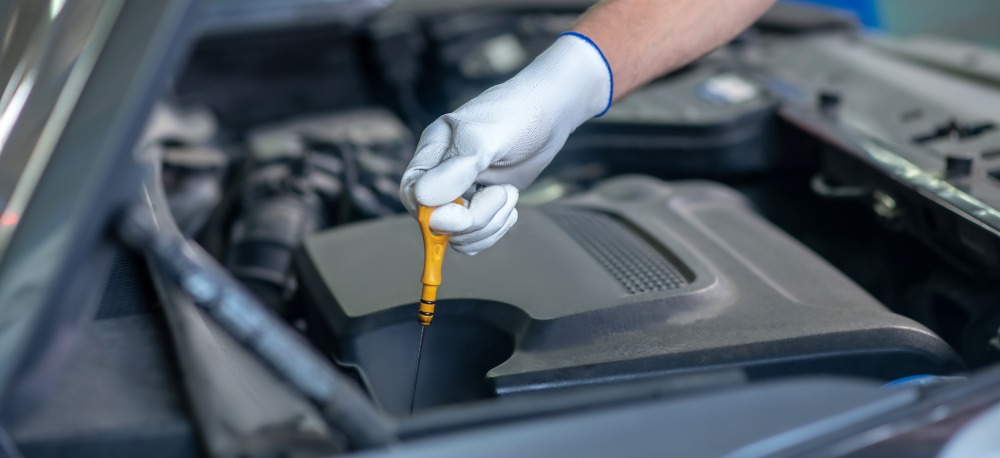 The Importance of Vehicle Maintenance
According to the Federal Trade Commission, failing to keep up on regular car maintenance can lead to:
Poor fuel economy
Unreliable performance
Broken parts
Extensive, costly repairs
In addition to the typical wear and tear that occurs over time, changing weather conditions that occur throughout the year may also have an impact on your car's condition and performance. According to the U.S. Department of Transportation's Federal Highway Administration, weather events such as rain, winds, and extreme temperatures can affect visibility, vehicle performance, and driver capabilities, leading to a shift in traffic flow and an increase in crash risk.
---
Schedule AppointmentGet the Repair Process Started
---
Basic Car Maintenance
Regardless of the time of year, regular maintenance is the starting point of a well-running car and safe driving. Here's a list of some basic car maintenance tips to check regularly.
Checking and changing the engine oil
Engine oil is used to:
Keep motors running smoothly
Prevent dirt buildup
Prevent overheating
Reduce wear and tear over time.
Car owners may want to check their vehicle's oil regularly and as directed by the car owner's manual.
Checking all fluids
Oil isn't the only fluid that needs to be checked regularly. Coolant, power steering fluid, brake fluid, and transmission fluid all play a role in keeping your car parts running smoothly, staying cool, and keeping drivers safe. Drivers should also consider keeping an eye out for leaks regularly.
Inspecting the brakes
Poorly maintained brakes may put drivers, passengers, and others on the road at serious risk. There are multiple ways to check your brake pads, including having them inspected by a trained mechanic when the car goes in for any service or listening for any unusual noises. Drivers may want to pay attention to any shuddering or vibrations from the pedal or steering wheel and keep an eye on the warning light on the dash.
Checking belts and hoses
Damaged belts and hoses can cause a series of dangerous and costly internal issues to vehicles, including overheated engines, loss of power steering, broken cooling systems, and damaged electrical charging systems. It may be worth having these parts inspected at regular service intervals.
Changing the engine air filter
Dirty engine air filters can cause dirt and other debris into your car's engine and reduce its efficiency. Owners may want to consider inspecting their filters once a year and replacing them accordingly to reduce any negative impacts on the engine.
Replacing windshield wipers
Windshield wipers are used to improve visibility on the road. When blades begin to deteriorate from the sun, moisture, oil, or debris, they may begin to leave streaks or prevent clear driving vision. Wipers should be inspected regularly to avoid obstructed vision and altered driver reaction time.
Inspect the tires
Tires play a vital role in vehicle safety. Being aware of worn tire treads, proper inflation levels, cracks or leaks, and blisters or bulges may help prevent unnecessary breakdowns or accidents
Staying On Top of Regular Services
Despite regular self-inspections, there may be issues with a vehicle that occur from natural wear and tear that the average car owner may not be able to catch. If this is the case, having your car inspected regularly by a trained mechanic may prevent such occurrences. As with many maintenance types, drivers should follow the manufacturer's maintenance schedule to keep up with regular recommended maintenance.
Checking for Burnt Out or Broken Lights
Headlights, taillights, and blinkers play a role in improving visibility for drivers and for others on the road. Keeping an eye on burnt-out bulbs and regularly cleaning the lenses may help reduce any risks of accidents on the road.
Washing Your Car Regularly
Although many drivers may believe that washing your car is purely an aesthetic task, keeping the vehicle free from debris may help prevent damage to paint and the undercarriage. Of course, every car is different and may require its own style of car washing frequently and style.
Regardless of the type of car or truck you drive, regular maintenance may be key in preventing unforeseeable damage that could cost owner's a fortune or put them at risk. Follow the manufacturer's maintenance instructions to ensure that your vehicle runs to the best of its ability, as intended.
Car Maintenance Tips For Every Season
Spring Car Maintenance Tips
According to the National Weather Service, many areas in the U.S. may see an increase in rain, thunderstorms, wind, and flooding as winter turns to spring. As the weather changes, drivers may want to consider how the changing weather affects their car.
One of the more obvious areas of concern for car owners is tire pressure and performance. Cold weather causes tires to lose pressure, leading many drivers to find their tires underinflated after a cold winter. Additionally, if a car has been outfitted with snow tires, it may be time to remove them.
Another area that may not be obvious to many drivers is battery life. Low temperatures often take a toll on battery performance, making it difficult for batteries to keep their charge. Drivers may want to make sure that their battery is fully charged around springtime to avoid having it die while on the road.
After a significant amount of time in a cold wet winter, it may be worth keeping an eye out for any leaking, rusting, dents, or uncontrollable leaning while driving. These signs may mean that it is time to replace the shocks or struts. And if the winter was particularly snowy or wet, it may be time to replace the windshield wipers.
Finally, as Daylight Saving Time springs forward, the U.S. Department of Transportation's National Highway Traffic Safety Administration (NHTSA) has launched a "Safe Cars Save Lives Check for Recalls" campaign. The purpose of this campaign is to remind motorists to check their vehicles for open recalls during the bi-annual time change in hopes of addressing safety risks that appear in vehicles, equipment, car seats, or tires. To look up your vehicle's open recalls any time of the year, visit the "Safety Issues & Recalls" webpage.
Summer Car Maintenance Tips
As the year rolls on, summer returns. A time often used to take road trips and travel by car, there are a number of ways drivers can prepare their vehicles for summertime with regular maintenance checks.
When the weather heats up, many drivers may want to consider getting their air conditioning and air filters checked or serviced. Running the AC during hot weather can help keep the driver and the passengers safe from suffering heat-related injuries, while regularly replacing the air filter may help encourage clean and optimal airflow.
Additionally, coolant fluids should be topped up to their recommended level regularly. This may also involve periodic engine flushing to help cooling systems that protect engines from overheating in optimal condition.
Of course, summer heat does more than heat up the car. Higher temperatures can have an effect on battery performance, causing the battery to lose life quickly. Before hitting the road for any long-distance trips, drivers may want to check on their battery's current charge to avoid being stranded on the side of the road in the warm summer sun.
Fall Car Maintenance Tips
Eventually, the summer heat dies away and the weather turns cooler. In many areas of the U.S., drivers may begin to experience an increase in wind, rain, storms, fog, and even early winter snows during the fall. Knowing this, drivers may want to consider taking cold-weather and storm-related maintenance steps.
Visibility takes a new level of importance in the fall. Properly working lights and windshield wipers that do not need to be replaced can decrease the likelihood of obscured vision on the road and improve safe driving habits.
And before the weather drops, it may be worth checking up on your battery and tires. As mentioned, low temperatures can affect the battery's ability to maintain power over time and cause a decrease in tire pressure. This may also be an ideal time to have your heater inspected, ready to combat whatever cold weather comes before the winter.
And, of course, similar to spring, car owners are encouraged to participate in the "Safe Cars Save Lives Check For Recalls" campaign sponsored by the U.S. Department of Transportation's NHTSA during the Daylight Savings Time switch.
Winter Car Maintenance Tips
After months of mild driving conditions, winter can often cause challenges for even the most experienced drivers. Colder temperatures, snowy weather, and even short daylight hours may require car owners to take special precautions learning how to take care of their cars in winter.
According to the NHTSA, there are several routine winter maintenance steps to take as the year comes to an end:
Ensure your headlights, brake lights, turn signals, interior lights, and emergency lights work properly for visibility on days with shorter daylight hours
Check your battery power to ensure that it has the extra power it needs to power vehicles in the cold
Replace windshield wipers and windshield fluid to improve visibility in the snow
Inspect tire pressure to avoid cold-weather deflation
Inspect tire tread or install snow tires for optimal traction on snowy or icy roads
Refill fluids such as antifreeze and coolant to ensure that the coolant does not freeze in the cold
Make sure your engine oil is at appropriate levels regularly, as it often freezes in colder temperatures and decreases engine power
Inspect belts and hoses for any wear or tear signals that may be caused by colder weather
Ensure that the heater is working properly to warm passengers and defrost glass that may be fogged by the cold
The NHTSA also suggests that drivers pack their vehicles with items that can help with winter driving and accidents, such as:
Ice removal tools like snow scrapers, brooms, and shovels
Sand or kitty litter for moving vehicles stuck on ice and snow
Warning devices such as flares and flashlights to use as emergency markers
Jumper cables for breakdowns
Blankets for warmth if the heat goes out
Daily necessities such as phones, chargers, medications, food, and water for longer trips
Additionally, cars can be brought in to professionals prior to the cold weather to be winterized. This includes pre-treating the undercarriage with an oil solution to prevent any road salt damage that may occur.
Conclusion
Winter, spring, summer, or fall, keeping up on regular car maintenance is vital in prolonging a vehicle's life, and may have an effect on its ability to keep everyone on the road safe. Drivers should continue to follow all manufacturer-suggested maintenance schedules to lower any possibilities of being placed in a dangerous position.
If a collision does occur as a result of a poorly functioning car, getting your vehicle to a collision repair professional will help get you on the road faster and more safely than it may have been before it was damaged. The professionals at Gerber Collision & Glass have offered collision repair services for more than 80 years, and are here to help get your car running at any time of the year. Backed by our National Lifetime Guarantee for as long as you own your vehicle, we offer customer service, quality workmanship, and one of the fastest repair cycle times in the industry.
Call Us Now at 1-877-7GERBER or Schedule an Appointment Online!