In the event of a collision, vehicle safety features can play a large role in protecting passengers. From seat belts to artificial intelligence, safety systems can work together to help prevent collisions from occurring or add on an extra layer of protection when uncertainty occurs.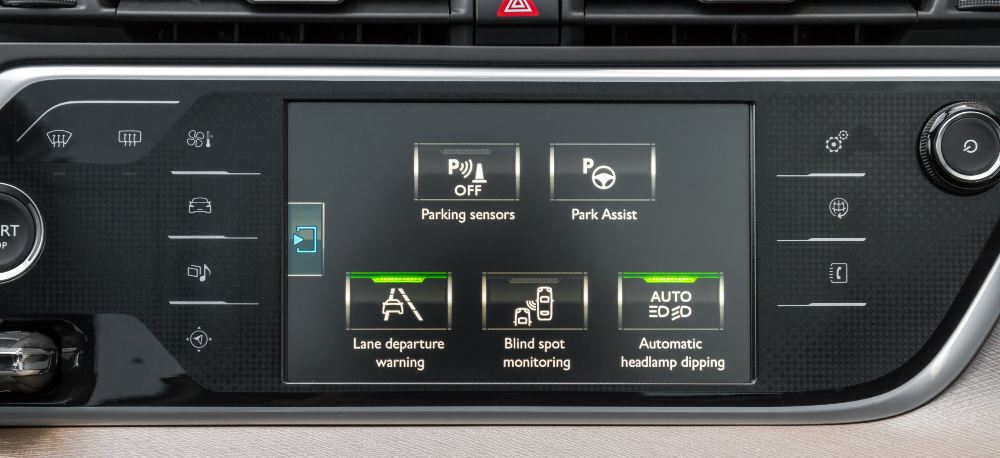 Here's a list of car safety features that may protect passengers in the event of a collision.
What Are Car Safety Features?
A safety feature is a product or technological device designed to promote safety in vehicles. Although they can't replace defensive drivers, these features can have a massive impact on passenger protection during collisions. Many auto manufacturers may offer advanced features, but only some are required by law.
New Car Safety Features
Thanks to the advancement and continual research on modern safety technologies, many manufacturers offer a variety of modern safety features on their latest models. Some of the more common features include:
All-Season Tires: Ideal for rugged weather conditions, all-season tires are often designed with tread patterns and rubber compounds that make it easier to gain traction on slippery or wet roads.
Adaptive Lighting: Adaptive lighting is a headlight system that reacts to changing surroundings or traffic conditions. When triggered, the lights may automatically adjust to low and high light beams to improve visibility at night and in low-light settings.
Lane Keeping Assist & Lane Centering Assist: According to Consumer Reports, these features combine automatic steering and braking capabilities to help keep vehicles within a lane or within the center of a lane respectively. Additionally, some vehicles may combine adaptive cruise control and lane-keeping assistance to promote increased safety on highways.
Blind Spot Detection: Thanks to modern technology, monitoring blind spots while driving has become easier to do. Blind-spot warning systems have a set of sensors located on the side mirrors and rear to detect vehicles that you may not be able to see. If the sensors detect another vehicle, they will immediately alert you.
Shatter-resistant Glass: Because of shatter-resistant glass, front and side windows are less likely to shatter when receiving heavy impacts. The laminated glass may also allow windshields to stay attached, helping drivers avoid serious injuries.
Lane Departure Warning: A lane departure warning (LDW) system is designed to alert drivers when they cross out of their lane without using a turn signal. However, LDW systems do not take control of the vehicle if it begins to drift lanes.
Automatic Braking: Based on The National Highway Traffic Safety Administration's Driver Assistance Technologies Guide, automatic braking or automatic emergency braking (AEB) systems automatically push a car's brakes when a potential collision is detected. There are several different types of braking systems, and depending on the make or model of the vehicle:

Forward Collision Warning
Automatic Emergency Braking
Reverse Automatic Emergency Braking
Pedestrian Automatic Emergency Braking
Utilizing this braking feature may help improve driving habits and reduce the number of collisions that occur.
Rear Cross-Traffic Alerts: A rear cross-traffic alert is a camera system that notifies drivers when something is close to the rear of the vehicle or out of camera range. These warnings can be helpful when a vehicle is backing out of a parking space, traveling in reverse, or on highly crowded roadways.
Automatic Crash Notifications: An automatic crash notification (ACN) system is a safety technology that notifies emergency response teams when a collision takes place. The operator is also able to track the location of the vehicle and gather critical information if the passenger is unresponsive.
Rearview Video Systems Or Backup Cameras: A rearview video system, sometimes known as a backup camera, is a safety feature that involves the use of sensors to help prevent rear-end collisions. According to the U.S. Department of Transportation, the camera-based view includes a 10-foot by 20-foot zone directly behind the vehicle. Backup cameras provide real-time video of the space behind a vehicle, protecting people or objects in view.
Be advised, the items in this list may not be mandatory but are becoming increasingly more common as technology continues to evolve.
---
Collision Repair EstimateRepairing All Makes & Models
---
Mandatory Car Safety Features
For the protection of passengers and drivers alike, the NHTSA has a list of several standard safety features required in cars. If you're on the search for a new car, then consider this list of vehicle safety features required by The National Highway Traffic Safety Administration (NHTSA).
Seatbelts
NHTSA data shows that each year, seatbelts save over 15,000 lives in the U.S. Designed to minimize the number of injuries sustained in collisions, a full seatbelt comes with a lap belt and shoulder harness. When a car stops or unexpectedly speeds, seat belts provide force to prevent any type of heavy movement.
Airbags
Airbags are used to provide cushioning and support during a vehicle collision. Often hidden in the front or sides of the vehicle, airbags inflate on impact to help prevent excessive movement and force. The NHTSA reported that from 1987 to 2017, frontal airbags saved 50,457 lives.
As stated in The Insurance Institute for Highway Safety's (IIHS) Airbag Overview, frontal airbags have been standard equipment in all models since 1998 and all SUVs, pickups, and vans since 1999. However, side airbags are not officially mandated.
Tire pressure monitoring
Tire Pressure Monitoring Systems (TPMS) are electronic devices that monitor a tire's air pressure. If the pressure is too low, drivers may receive an alert or notification. The NHTSA has required tire pressure monitoring since the model year 2007. This means the standard feature is implemented on all models that are 2008 or later. However, the government mandate does not require cars to tell drivers which tire is low on air. Tire pressure can always be checked manually with a tire gauge.
Inside trunk monitor
In 2001, the NHTSA required all vehicles with trunks to have an inside trunk handle. If you're interested in earlier models with this safety feature, it might be a good idea to check the car manual, as many of them may have trunk monitors. The internal trunk handle was designed to open the trunk lid from inside, allowing children and adults to escape from locked trunks.
Electronic stability control
As of August 24, 2015, the NHTSA mandates electronic stability control (ESC) for heavy vehicles. Electronic stability control systems include automatic emergency braking technology to individual wheels that can prevent loss of control when a car changes too quickly or plows out of its intended path. It's important to remember that ESCs are not a replacement for defensive driving strategies. Instead, they can be used to help drivers in the case of an emergency.
If Safety Features Don't Keep You Safe
Regardless of the safety feature, collisions may occur. If that's the case, ensuring that your vehicle and all its safety features are in good shape is vital to preventing further collisions down the road.
The experts at Gerber Collision & Glass have over 80 years of car frame and body repair experience. Every Gerber shop is staffed with professional technicians who deliver expert advice and customer service, including insurance paperwork assistance, twice-weekly repair updates, and quality auto collision repair that is backed by our National Lifetime Guarantee (for as long as you own your vehicle).
Call Us Now at 1-877-7GERBER or Schedule an Appointment Online!