When falling precipitation, freezing cloud temperatures, and strong updrafts result in hail, it makes driving dangerous. If you're caught in a hailstorm while on the road, take these steps to ensure that you arrive at your destination safely: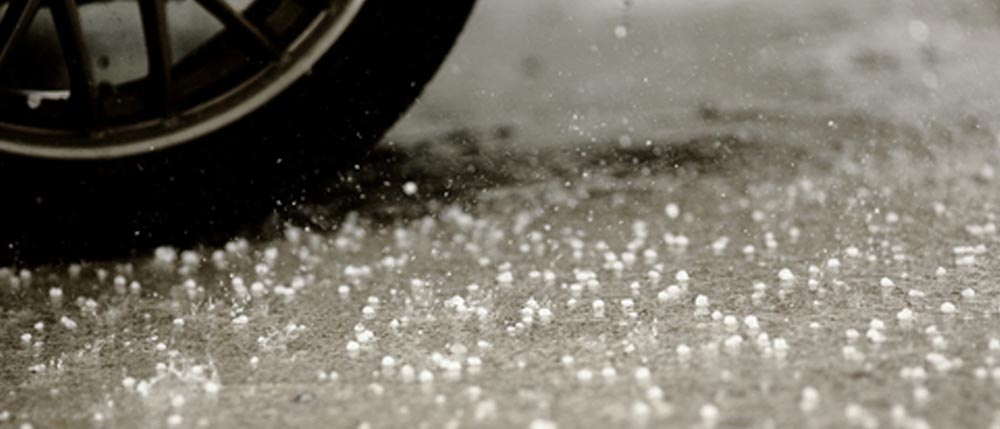 Immediately turn on the low beams, drop your speed, and stay aware of the vehicles around you on the road because other drivers may not know how to react when driving in a hailstorm.
Allow three times the usual distance from the back bumper of the vehicle ahead so you can avoid a rear-end collision.
Get off the road, but do so safely. The impact speed of hail is greater on a moving object, so your car is at greater risk of damage when it's traveling forward. If you can, pull into a parking garage, under an overpass, a gas station canopy, or any other spot that offers shelter for your car.
---
Schedule AppointmentGet the Repair Process Started
---
If pulling onto the shoulder of the road is your only option, make sure the car is completely out of the traffic lanes and off the roadway. Angle the car so the falling hail hits the windshield and not the side or back windows, which can break easier. Windshield glass is reinforced to better withstand wind and the impact of hail.
Stay inside your vehicle. Fast-moving hailstones can break glass and dent metal, so they can injure you and your passengers too. If possible, lie down with your face away from the window. If you have a coat or blanket in the car, use it to protect your face and head in case of flying glass.
What to Do When Your Car Sustains Hail Damage
Hail can dimple the body of a car, and crack or break the windshield or windows. If you discover damage after driving in a hailstorm, file a claim with your insurer immediately so you can schedule windshield repair or replacement, or paintless dent repair at an experienced auto body shop.
When your car is damaged by hail, we're here to help. For outstanding service and hail damage expertise, contact us today!