Getting into a collision is stressful and can be an overwhelming experience. However, with the introduction of online collision repair estimates, it makes the process a little less overwhelming. When your vehicle is damaged in an accident or collision, obtaining repair estimates is a crucial first step in the process of getting it back on the road. When you're getting a repair estimate, quality, cost and timing are three key factors to keep in mind.
Gerber Collision & Glass - Online Collision Repair Estimates
The following are some advantages of getting an estimate online at gerbercollision.com: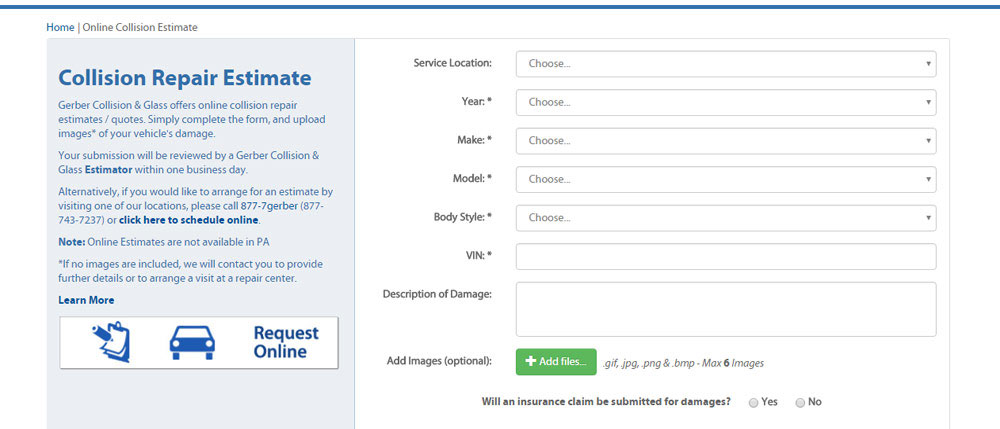 ---
Collision Repair EstimateRepairing All Makes & Models
---
Convenience

With the option of requesting an estimate online, it allows you to avoid the inconvenience and driving time to various body shops to acquire an estimate for your damaged vehicle.
Online Photo Uploads
Uploading photos of your vehicle damage allows the Gerber Collision & Glass Estimator to provide you with an accurate estimate.
Smartphone Submissions

With the popularity of smartphone usage in our daily lives, having the ability to submit a collision repair estimate request through your smartphone at any time and place makes the process extremely convenient.
Quick Turn-Around Time

Once your press the "submit" button, your estimate details will be reviewed by a Gerber Collision & Glass Estimator within one business day (and often the same day).
Go to Gerber Collision & Glass, we're here to repair your vehicle and get you back on your way as quickly and seamlessly as possible.
If you're looking for a collision repair estimate, repair expertise, and outstanding service, choose Gerber Collision & Glass and request an online repair estimate today!