Keeping your car's interior clean and fresh is just as important as taking good care of the exterior paint by washing and waxing regularly. Here are some car cleaning tips to help you keep the interior looking like new: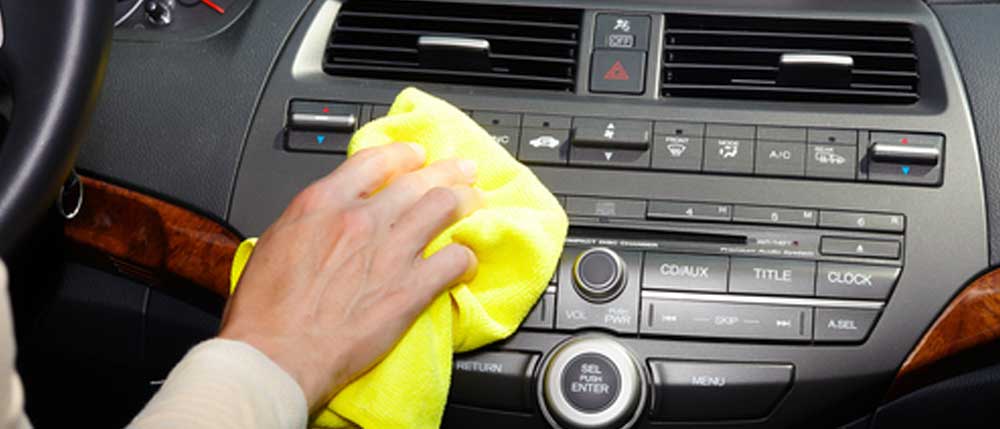 Use a can of compressed air to blast out dust and grime that's accumulated in nooks and crannies. Open the windows first, then aim and shoot debris from the air vents, radio, gear console, and seat rails. If you have a cabin air filter, remove it before cleaning, then replace it.
Compressed air works equally well for moving dirt away from hard-to-reach carpet edges to the center so you can easily vacuum it up. You can also use a stiff brush to loosen ground-in deposits on the carpet or upholstery before vacuuming. Be sure to tilt the seats all the way back so you can use the vacuum crevice tool effectively.
---
Collision Repair EstimateRepairing All Makes & Models
---
Leather seats and trim need special treatment. Choose a good quality leather cleaning product and apply it in sections. Wipe down each section with a soft cloth after you clean it. When you're finished, apply a leather conditioner that contains aloe to replenish oils and maintain a supple feel.
For vinyl seats and trim, use a scrub brush and a cleaning product specifically made for vinyl. When you're finished cleaning, follow up with a vinyl protectant to keep the man-made material soft and pliable.
To freshen carpet and fabric upholstery, apply a foaming spray shampoo and scrub away dirt and stains with a stiff bristle brush. After you've finished scrubbing, wipe everything down with a dry cloth. Leaving the car's doors and windows open will help it dry faster.
When cleaning the interior, leave the window glass until last. Use a glass cleaner that doesn't contain ammonia, which can damage the upholstery and instrument panel. After cleaning, buff the glass with a microfiber cloth to get rid of cleaner residue that can cause spots and streaks.
Contact us today at Gerber Collision & Glass for more car cleaning tips, or to schedule expert auto glass or auto body services.