Imagine getting an hour's work done in the time it takes to commute to the office. While this seems like wishful thinking, driverless cars are no longer a scenario reserved for the distant future. Many of the features found in driverless cars of the future are already being integrated into the cars driven today.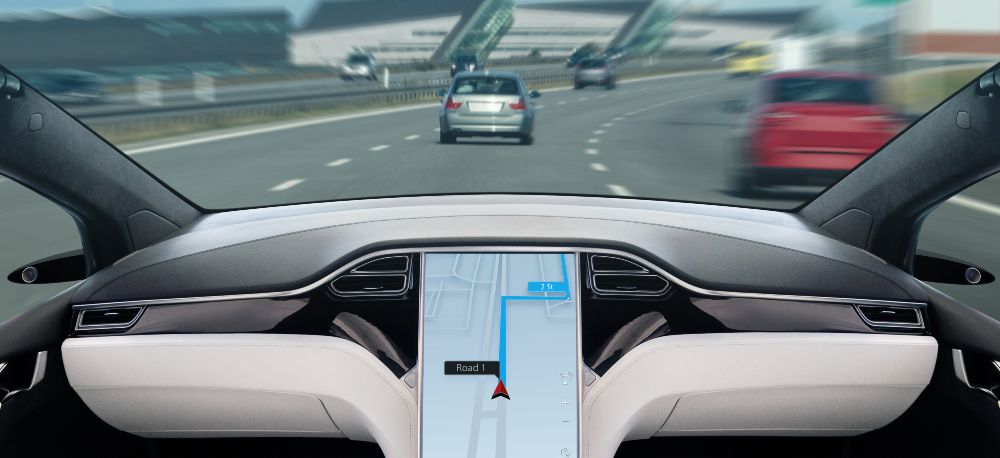 What are Self-Driving Cars?
Self-driving cars are vehicles where human navigation is not required. Fully autonomous cars use technology that is capable of sensing the environment, and a human passenger is not required to take control of the vehicle.
The Union of Concerned Scientists (UCSUSA) has identified specific levels that indicate the degree of automation for the capability of different autonomous cars. The five levels include:
Level 0: In these cars, a human is in control of all main systems while driving.
Level 1: The car has some degree of automation. Cars on level one automation could be able to engage automatic braking or activate cruise control. Automatic functions on this level cannot be employed simultaneously.
Level 2: Two or more automated features can be used simultaneously, but a human is still in control of the vehicle to ensure safe operation.
Level 3: The car can engage numerous automated features related to safe driving. Still, a human will need to take control when alerted.
Level 4: The vehicle can handle most, but not all, driving scenarios independently.
Level 5: Cars on level five are fully autonomous and able to self-drive in all situations.
Waymo and Tesla are two companies at the forefront of integrating self-driving capabilities into their vehicles. However, Waymo does not sell cars that have their self-driving system on board. Instead, they have partnered with companies like Stellantis, which owns Dodge, Chrysler, Jeep, Jaguar, and Land Rover, to provide self-driven vehicles for the ride-hailing industry.
Tesla, on the other hand, has integrated both autopilot and self-drive capabilities into their vehicles. However, the company stresses that a licensed driver still needs to be behind the wheel of these cars—ready to take control if required.
Other companies like Volvo, Ford, BMW, General Motors, and Cruise have been quietly developing self-driving cars for years.
What Are the Benefits of Self-Driving Cars?
According to the National Highway Traffic Safety Authority (NHTSA), 94% of serious collisions are caused by human error. Automated vehicles could potentially remove this scenario, promoting safety to drivers, passengers, pedestrians, and bicyclists.
In addition to the safety benefits, automated vehicles may improve the convenience and efficiency of how we travel. Automated cars have the potential to navigate traffic more effectively than human drivers and, as a result, may encourage a smoother flow of traffic. Additionally, passengers of automated vehicles may be able to use the time spent commuting more productively.
Automated vehicle technology could also provide mobility options for individuals with limited driving ability, such as the elderly and individuals with disabilities. Furthermore, automated cars could potentially open up employment opportunities for persons with disabilities who were previously unable to pursue these opportunities due to driving disadvantages.
How Do Self Driving Cars Work?
Self-driving cars make use of a range of technologies to automate driving activities. Tesla's current vehicles, for example, use eight external cameras, twelve ultrasonic sensors, and an onboard computer to observe vehicles, pedestrians, and surroundings while the vehicle is in motion. Tesla cars produced from September 2014 and October 2016 have less of these features—one camera and less powerful ultrasonic sensors and radar. However, Tesla's fully self-driving vehicles may expand upon the current features.
Waymo's vehicles use Light Detection and Ranging (Lidar) technology to gain a 3D image of the area around the vehicle. They also use cameras, radar, and an onboard computer as part of their automated system.
What Types of Features Make Self-Driving Cars Work?
The automotive industry has been incorporating automation elements for years. Features like lane assistance, blind-spot monitoring, and adaptive cruise control are all individual components of a network of systems that are integrated into self-driving cars.
Fully self-driving cars use various features to automate many more and, in some cases, all of the driving responsibilities. Some of these features include:
Navigation on autopilot: The vehicle automatically follows navigation instructions, including getting onto and off highways and moving safely through interchanges. In many cases, the car would also engage the turn signal when required.
Auto lane change: This feature safely moves to a neighboring lane while driving on the highway.
Autopark: Automatically navigates parallel and perpendicular parking.
Traffic and stop sign control: This feature allows the vehicle to identify and respond to traffic lights and stop signs.
Summoning features: These features include navigating the vehicle out of tight spaces while the driver is not in the car. Other features in this category include the ability for the car to be summoned to meet a driver at a selected location.
Self-Driving Cars Today
Self-driving cars in 2020 are still very new and, thus, there are some limitations to the technology. The Congressional Research Service outlined some concerns in the Issues in Autonomous Vehicle Testing and Deployment report. Amongst the concerns are:
The protection of data collected by onboard computer systems.
Whether it is safe for these vehicles to use public roads.
State and local regulations affecting how autonomous vehicles are tested and deployed.
To reduce this risk, self-driving vehicles have to be programmed to make decisions in inevitable situations. Autoinsurance.org cautions that as the number of self-driving cars on roads increases, so is the likelihood that the vehicles themselves will need to make ethical decisions regarding how to behave if or when a collision is inevitable.
Additionally, laws relating to self-driving vehicles differ from state to state. Currently, 29 states and Washington, D.C. have passed legislation on automated vehicles, and the limits of these legislatures cover a variety of factors.
For example, according to Autoinsurance.org, many of these states require a licensed driver to be prepared to take control of a vehicle if they are using automated systems while driving. There are also regulations that dictate standard following distances between vehicles to enhance as an enhanced safety precaution. Furthermore, many states encourage the research and development of automation technologies in the vehicle industry.
Interestingly, Georgia and North Carolina have made it legal for operators of self-driving vehicles to do so without a driver's license. In North Carolina, an adult must be present with a child under twelve in a self-driving vehicle. This state also has made regulations targeted towards vehicles that operate without a driver. Additionally, Nebraska has made it possible for driverless vehicles to drive on public roads.
As self-driving vehicles become more prevalent, the need to accommodate the changes they bring may grow stronger. To prepare for these changes, the U.S. Department of Transportation (USDOT) is actively working with key stakeholders to accommodate these changes. The department's focus is threefold:
Promote collaboration and transparency
Modernize the regulatory environment
Prepare the transportation system
The USDOT is dedicated to working with all stakeholders, including the public, to keep all parties involved updated on the abilities and shortcomings of automated driving systems. The department is also focused on developing regulations that will encourage the development of automated features while providing safety frameworks for this. Lastly, the USDOT will pursue research to establish the research required to integrate automated driving systems on the roads safely.
Self-Driving Does Not Mean Safe Driving
While many automated systems are moving the world closer to the production of self-driving cars, the future of driverless vehicles is still unclear. And while automated features can provide several benefits they do not completely remove the risk of collisions from occurring.
If the unfortunate happens and you have been involved in a collision, you can reach out to the collision repair experts at Gerber Collision & Glass. With more than 80 years of quality auto collision and auto glass repair experience, every Gerber shop is staffed with professional technicians who deliver outstanding customer service, including insurance paperwork assistance, twice-weekly repair updates, and quality auto collision repair that is backed by our National Lifetime Guarantee.
Call us at 1-877-7GERBER or schedule an appointment today.