Automobiles have transformed over the years, especially concerning the safety features available. Many of the safety features we now see as standard where cutting edge technology just a few years ago!
Traditional Safety Features
It goes without saying, but any car purchased should have some basic safety features. This should not be an issue when buying a new vehicle, but when buying a previously owned car here are a few standard safety features to make sure are in good working order:
Seatbelts
Airbags
Head Restraints
Anti-Locking Brakes
Traction Control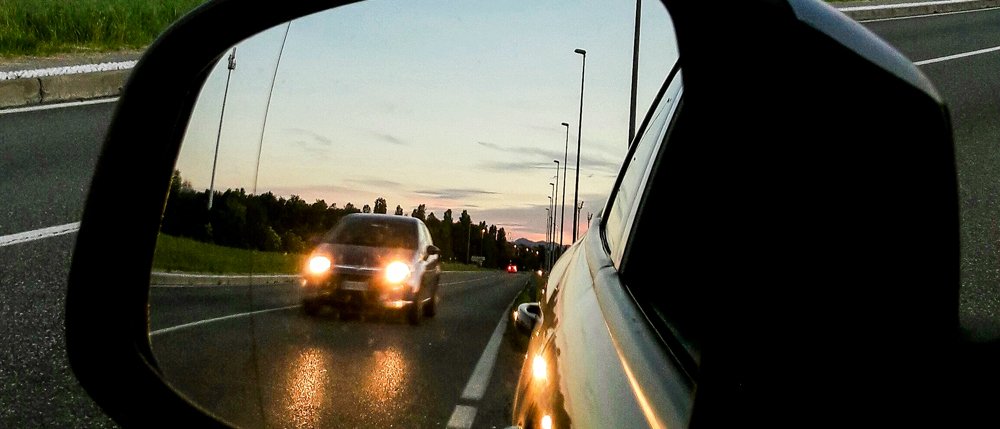 Newer Car Safety Features
Now let's take a look at some of the newest safety features you may find when buying a new car:
360-Degree Parking Camera
Did you know, that around 20% of all auto collisions happen in parking lots? Thankfully, these auto collisions are usually at low speeds, so fatalities and serious injuries are rare; however, the damage caused can still be time-consuming, inconvenient, and costly!
That's why a growing number of drivers are taking an interest in 360-degree parking cameras. These cameras make it easy to get an all-around view of your surroundings alerting you to hazards such as other cars, pedestrians, and even barriers or obstructions in the parking lot.
Fun Fact! Did you know by May 2018 rear-facing cameras will be required on all vehicles less than 10,000 pounds? (Source NHTSA)
Automatic Emergency Braking (AEB)
When AEB is present, the vehicle's brakes will automatically engage to avoid an auto collision, or at the very least reduce the speed of impact. They are designed to detect when a forward collision with another vehicle is imminent in enough time to avoid a crash. The driver is alerted so they may take action manually, but if their reaction is not enough to prevent the auto collision, then the AEB system kicks in automatically to prevent or reduce the severity of the accident.
---
Collision Repair EstimateRepairing All Makes & Models
---
Fun Fact! In March 2016, it was announced that 99% of American auto manufacturers had agreed to include AEB systems as standard in most new cars by 2022. (Source: United States Dept of Transportation via Intelligent Transportation System)
Forward-Collision Warning (FCW)
Vehicles equipped with Forward-Collision Warning will produce an audible and/or visual warning to alert drivers of a possible auto collision, prompting them to take steps to avoid impact. This is an advanced safety feature monitoring the speed of the vehicle, the speed of the car in front and the distance between both automobiles. If the car gets too close to the vehicle in front, it will trigger the alarm, warning the driver of a potential collision.
An FCW system does not take control of the vehicle, merely informs the driver that action is required.
Fun Fact! These types of early warning systems first began to emerge back in the 1950s. One of the earliest examples came from Cadillac in the form of their prototype vehicle, the Cadillac Cyclone. The cyclone used radar technology mounted in the nose cone of the vehicle to detect objects close to the front of the vehicle. However, the technology (at that time period) was too expensive, and the idea was soon dropped. (Source: Wikipedia)
Blind-Spot Warning (BSW)
Another great safety feature for automobiles now is the Blind-Spot Warning system which alerts drivers with a sound, tactile (vibration), or visual warning if there is a vehicle in the blind spot. In some models, an additional warning is offered if you use the turn signal while there is a car in the lane next to you. Some of the car brands that were the first to incorporate this include Lexus, Hyundai, and Toyota. (Source: Consumer Reports)
Rear Automatic Emergency Braking (Rear AEB)
In a vehicle equipped with Rear AEB, the brakes automatically engage if there is a danger of backing into an object or another vehicle behind it. This can also be triggered by other sensors on the car, including a rear cross-traffic system.
When this safety feature is engaged it lowers the speed of the vehicle (and in some cases actually stops the vehicle) to help avoid a collision. Since a rear obstruction is most likely to be a pedestrian or an animal in a parking lot or driveway environment, this is particularly good news!
Lane-Departure Warning (LDW)
A Lane-Departure Warning system alerts drivers by way of a visual, audio, or tactile warning when they begin to drift across lane markings.
Fun Fact! This type of lane detection technology uses the Hough Transform and Canny Edge Detector principles which identify lane markings using footage from a front-mounted camera. This basic flowchart summarizes the scientific algorithm functions of lane-departure technology!
These are just a few of the safety features you might find when buying your next vehicle. They may not be able to prevent an auto collision entirely but might significantly reduce your odds of having an accident.
--
Founded in Chicago, IL in 1937, Gerber Collision & Glass has provided quality auto collision and auto glass repair work for more than seventy years. What started as a single auto glass and trim shop has grown to be part of the largest auto collision and glass repair companies in North America.
Call Us Now on 1-877-7GERBER or Schedule an Appointment Online!