Gerber Collision & Glass located at 41801 N 41st Dr is situated in the Anthem Commerce Park neighborhood in Anthem, Arizona.
Gerber Collision & Glass prides itself on being your full service auto body repair / auto glass center. They will assist you in dealing with your insurance company, help you arrange alternate transportation, and will keep you up-to-date on the repair status of your vehicle, while your vehicle is being repaired.
The Repair Shop
The facility is approximately 28,000 square feet including an office and waiting area. Their service stalls can accommodate up to 36 vehicles at any given time. The team is comprised of 5 office staff and 9 technicians.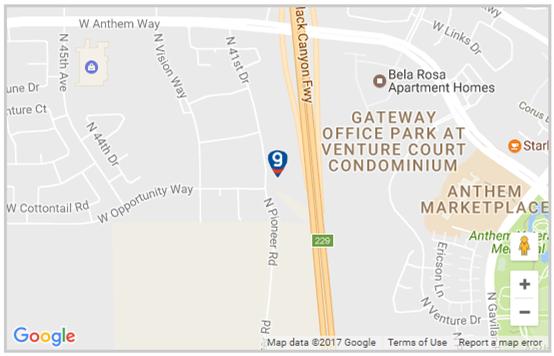 What Past Customers Are Saying
"Have to give Mike a pat on the back! He was professional, attentive, and hands on. It's good to see that kind of service is still around." MARC S
"I would like to give a great compliment to Michael W. He assisted me when I had to get my car repaired as a result from a car accident. I am hard of hearing and he took time to explain everything he was doing and kept me up to date. He should be commended for his attention to detail and courteous. These are the types of employees every Company should have." BENITO P
"Jeffrey K. took me through the process from from estimate to completion. showed me step by step pictures of all the work that was performed. I was very please on how professional Jeff conducted himself. I would come back to Gerber for any car repairs needed in the future." STEVE N
"Gerber does some of the finest repair work I've ever seen. My car looks brand-new again. Jeff K., the estimator who handled the work on my car, gave me at least daily reports on the progress of repairs. Work on my car was finished earlier than their estimated completion date. The entire staff are courteous, knowledgeable, and helpful. I am completely satisfied with my experience dealing with Gerber Collision and Glass." WILLIAM M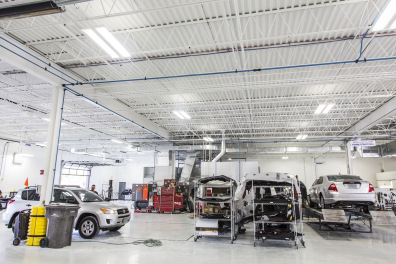 Why Go To Gerber Collision & Glass in Anthem?
Whether you need collision repair or auto glass windshield replacement and repair services, Gerber Collision & Glass will ensure that the repair is done right. Gerber Collision & Glass is your collision, auto body and auto glass repair destination to get your vehicle back on the road safely.
Contact Gerber Collision & Glass Anthem to learn more.
Quality Workmanship and a Lifetime Guarantee
For over 75 years, vehicle owners have trusted their automotive collision and auto glass repairs to Gerber Collision & Glass. Quality workmanship backed by our National Lifetime Guarantee and outstanding customer service are just a few reasons why our customers choose to bring their vehicles to Gerber Collision & Glass.
https://www.facebook.com/GerberCollisionAnthem
https://plus.google.com/b/109900191881004549891/109900191881004549891